Love makes you a Zombie
August 16, 2012
You hear it all the time, "I love you," and usually the one that's being told that jumps from the floor, to the edge of the universe delighted. You watch as they get all mushy gushy and you can't help to utter the cliché, yet still very appropriate "awww," every now and again. It's almost like love takes them to another place, somewhere high up in the sky where no one else can get them. Somewhere their deepest inhibitions can't reach them, and it's only them alone, living out their love story. This is all good and well, but what they don't tell you is that love, quite simply, makes you a zombie.

They don't tell you that love gives you such a good high, that when the person you do love isn't around, all you can do is crash. Hit rock bottom. It's a see-saw affair; you're either going high as the moon, or to the pits of the earth. They don't tell you that as soon as that girl leaves you, your heart feels like it's getting ripped out of your chest, pulled straight up your throat. I myself am not so sure what to think about it. Should a drug as addictive as love be put to sale? Should we advocate such a powerful drug? I don't have the answer, I'm not sure anyone has the answer but I do know, love makes you a zombie.

Each action you take is motivated by that other person, they empower you to do things you otherwise couldn't or simply wouldn't. Suddenly being the one to say all those cliché things doesn't bother you, heck; you wouldn't even mind writing a love song now. It's wonderful isn't? It sure is, but what you don't know is that the feeling that makes you do things you wouldn't normally do, also goes for things that cause you detriment. Just because you would take a bullet for that person, doesn't mean you should. Just because they make you as happy as can be when they're around, doesn't mean you can only be happy when they're around. Just because you care for her the most, doesn't mean that you should care for yourself the least. I've seen many successful relationships; absolutely beautiful to watch, but what I didn't see is that love made them zombies.

To top it all off, you have a feeling deep down that you can't live without that other person and that you need them. Anyone that threatens what you have will pay dearly for it, and any joke becomes a serious offense. You wonder to yourself why this is so important to them, and why they'll go so far for love as they do. I just attribute it to the fact, that love makes you a zombie.

Even though love does in fact, make you a zombie, I'm more afraid for those in the absence of love. I'm afraid for when your "other half," decides to walk up and leave, if it doesn't work out, and what happens then. But even more than that, I wonder how people allow themselves to fall victim to this. Becoming a lifeless, one track minded, zombie certainly doesn't entice me to fall deeply in love, but maybe that's the mystery. Maybe it creeps up on you like the sun at dawn;

Maybe what we need is a zombie apocalypse.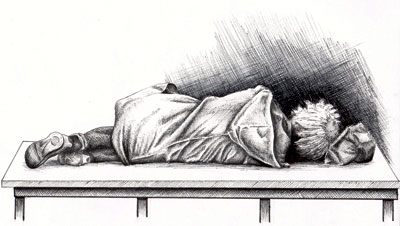 © Devin N., Sherrills Ford, NC