Screw Up
February 10, 2010
So, you screwed up, actually the two of you screwed up. Actually, he screwed you and you; well you just plain screwed up. What were you thinking? Did he call you beautiful? Did you tell you it would be worth it? That all that hype was true, and it was just as great as they say?

Everyone's doing it. It won't hurt that bad. Did it hurt? Does it hurt now, in your heart? Did he say he loved you? Did you believe it; do you still believe it now? Did he slip the promise ring right off your finger? Were you, well, you know… protected? I thought you were going to wait.

A hurt lies in you that will never go away. Look at him, now, talking to her like it never happened. I can't believe it really happened. I can tell by the way you look that you wish it hadn't. You wish you could just undo it, and take it all back, but you can't. It's inside of you, a seed of anger self-deprecation.

Are you going to tell everyone? What if he does? Will you turn into a locker-room joke, the kind the guys howl about as they whip towels at each other? Naked? Do they imagine you naked? You look frightened at this. What's on your wrists, all the way up your arms? What have you done?

I see it in your eyes; you're lost. Should we go together? Should you tell him? Your parents are going to flip? What will happen to your life? No college diploma, maybe not even one from the high school. It's all over now. You always wanted kids, but you wanted the job, house, and husband first. So what will you name her? When's the baby due?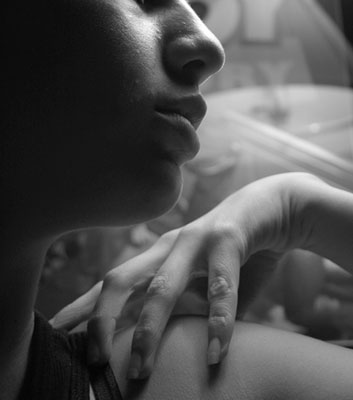 © Rebecca B., Santa Clara, CA