Towelhead
June 14, 2012
It was a cool spring Day in Chicago and I had signed on to my Gmail account. As I perused through my inbox, all I could see was an excessive amount of junk emails. At the bottom of the bold and white highlighted emails, however, I did see something that had me confused to the point where my eyebrows were raised. The email was titled ''Niqab Ban?'' and included a link to a poll conducted by BBC asking the public whether or not the ''Niqab'' or veil should be banned in schools. An overwhelming majority voted no, while under 7 percent voted yes. More recently, France has decided to ban the Niqab and would fine anyone who chooses to wear one. This news stunned me and had me in a state of disbelief. Why does France have to go to such extreme measures? Why do they have to prevent us from exercising our religious values? I immediately made it a priority for me to spread this news to my friends. I logged off of Gmail and went to my next stop, Facebook. I sent a message to my closest friends and family, urging them to take action and vote.

I too, a Pakistani girl who wears a hijab(a head covering) have had a few experiences related to my hijab. I was once called a ''towelhead'' in the seventh grade by a boy and have been yelled ''No hats in school!'' by students. I grew to take these minor remarks with a little dose of laughter and indifference, but it did hurt a little inside. Being the only girl who wore a hijab in my grade and elementary school, I felt different, but kind of unique at the same time. My classmates would ask me a plethora of questions that I was ready to answer, but hesitant to speak assertively about. My classmates would ask me: ''What is the purpose of wearing the hijab?'' or ''Doesn't it get hot under there in the summer?'' This would carry on into high school as well. I have to say at the time it did irk me at how uninformed teens are today about religion, but I realized that the answers I provided them with could broaden their views and allow them to appreciate other religions. I was happy to answer their questions and was even more delighted when in doing so, they did not criticize me.

When I entered high school, I saw more girls who wore hijabs and felt relieved. Everyone respected each other and there was always this positive energy around me. I never imagined that I would be respected just based on all of the discrimination going on in foreign countries. My cousin who used to reside in a European country told me that her high school did not allow her to wear the hijab and as a result, she returned to continue her education in Pakistan. The Hijab is a means of covering the body in a way that does not attract attention to a woman's outer beauty. It is a symbol for exercising modesty, a value that is highly stressed in Islam. Ironically, it does the opposite in America and other countries. It attracts attention from the public who tend to stare and stare at such an unusual style of dress. It has become a crime to wear the hijab, as if women who wear it are breaking the law. I commend anyone who can wear the niqab or even the hijab, but to prohibit them from wearing it is a crime in itself because you are being judged not for your inner being but your outer shell. That is where the line is drawn. I will let God do the rest.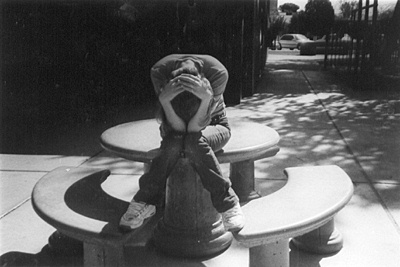 © Catherine R., Phoenix, AZ