Parkland's Tragedy
MAG
February 15, 2018
As a high school sophomore in Florida, the shooting in Parkland, Florida, at Marjory Stoneman Douglas High School terrified and traumatized me. This was the one of the deadliest high school shooting in this country's history, with a death toll of 17 people. The incident occurred on Valentine's Day. A former student opened fire after pulling the fire alarm, luring innocent students like myself out of classrooms. This horrific act of violence has caused the nation to grieve.
A student said in an interview, "The fence, over by Westglades, everyone just climbing the fence, everyone. Like, there's no room on the fence. Just everyone climbing. People pulling me down. Like, scratches on me. But I hopped the fence and I just started running."

Multiple videos were recorded by students during the incident. They are deeply haunting and disturbing. They bring the viewer into the event, into what these innocent high school students lived through. You can hear gunshots in the background, the terrified screams of teenagers afraid for their lives. Every viewer cannot help but feel a connection to the incident.

There are many issues raised over this school shooting. By some accounts this is the thirtieth mass shooting in the United States this year, and it is only the second month of 2018. There has been an immense outcry for stronger gun control. It is easy to buy a gun in Florida. You can buy one without a license, and don't need a firearms registeration.
Will this cycle of violence continue after Parkland? School shootings and mass shootings have been normalized in our country to the point that it is sickening. On Twitter, @goonguy tweeted, "I'm a gun owner. If I had to give up my guns (sensible gun laws wouldn't require that) to save one kid's life, I would. There's no other argument unless your toys mean more to you than human life." Gun control works: England enacted strict gun laws after the shooting of Dunblane primary school, and there have been no major school shootings since.

Aaron Feis, a security guard and assistant football coach at Stoneman Douglas, was killed in the shooting. He shielded students from the shooter, and then was shot. There was also a video on the news of a senior student comforting a panicked freshman after the incident. There is a good in our world, and we need to let it shine.

The parent who lost a child that day stood outside the school in the mass of chaos, waiting for their baby to walk out. They will never see their baby again. Those parents now have a black hole in their hearts that can never be repaired. They never expected their child's education to be ended by a gunman shooting at children like animals.

There needs to be change in our world. Kids should not be scared for their lives at school, where they are supposed to be learning. Kids should not have to worry about whether they are next on the statistical death toll. Kids should never have to face such a terrifying, tragic death.

Parkland will always be engraved in my heart, along with the victims.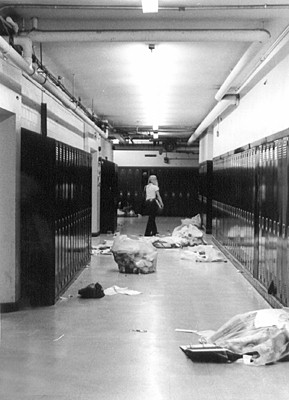 © Halsey S., Marblehead, MA