Presidential Rock Star?
MAG
February 26, 2009
On Monday we celebrated the birthday of a man who gave his life for civil rights, and on Tuesday we inaugurated our first black ­president.

It was fitting. A little PR-happy, perhaps, a little campy, but if one could overlook the fact that Obama has already been compared to every half-decent leader from Lincoln to JFK, it was fitting.

It was certainly more fitting than a comparison I saw last week on "Showbiz Tonight": Brangelina (Brad Pitt and Angelina Jolie) versus the Obamas (Barack and Michelle) – which couple is more famous? It's one thing for Al Gore to win an Oscar; it's quite another when Sasha Obama needs a press release to explain why she was fiddling around with a digital camera. Chelsea Clinton didn't start trends. Malia is not Miley. Michelle is not Oprah (and no, Oprah does not deserve a cabinet position).

We all know that Obama is young, vibrant, ­someone new and different. But if there's anything we have learned from the last eight years – from Bush getting a shoe chucked at him in Baghdad, from the romantic life of Nicolas Sarkozy, from the heroic efforts of Captain "Sully," who landed his plane in the Hudson River – it is the value of competence, dignity, gravitas.

Having Jennifer Lopez call the most powerful man in the world a "rock star" and "the biggest A-lister in a room full of A-listers" in no way confers gravitas upon him. That just sets him up for caricature.

We need to realize that he is our president. He's facing two wars, the worst economy since the Great Depression, China and Russia resurgent, a budget ­crisis, healthcare crisis, energy crisis, Gaza crisis, plus a finicky Congress. He doesn't need to deal with his face on sneakers, skateboards, or toilet paper. And since when do presidents have their own line of cologne?

The only other political figure I can think of who has inspired such a cult of idolization and commercialization is Che Guevara. Ironically, the very success of Guevara's iconography has subverted his true ideological legacy. Few of those who sport his swarthy, spirited face on their T-shirts or notebooks today know what he did, or even what he believed in.

That's my greatest fear for Obama. I'm afraid that we'll go through two terms with this eloquent, ambiguous man, and we'll never move past the adoration phase. We'll never really know which promises he kept, which advisors he fired, which bills he vetoed, because we'll be too enamored with his dog, his daughters, and his wife's Oscar de la Renta. We'll hold him back from being presidential, doing his job, while at the same time, we won't hold him accountable.

During the first year or so of the campaign, the ­excitement was understandable. But by now even Sarah Palin has gone back to quietly running her state (okay, maybe not so quietly), and it's time for a change in attitude. We must respect the privacy of the Obama children, regardless of the historical nature of a black family in the White House. Meanwhile, the media should spend its precious sound bites on more worthwhile, underserved topics, like conjoined twins or homicides.

As for Barack Obama, it's time to ditch the red ­carpet, get down here with the rest of us, and save America from the supposed impending doom. That's what we're paying him for, right?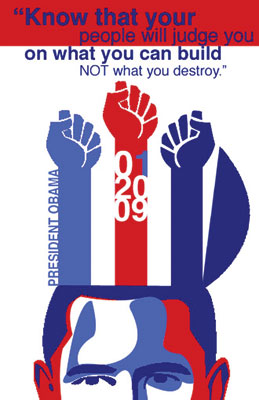 © Brennan W., West Linn, OR