Courage
July 4, 2015
What is courage?

"The ability to do something that frightens one"

"The strength in the face of pain or grief"

When someone usually speaks of courage, they're referring to outward actions. What is the face of courage? Is it a man running down a thief who stole an elderly woman's purse, or someone donating their blood to someone who's been critically injured? Those actions are righteous and honorable, yet they woefully undermine the impartiality of "courage" when standing alone.

Charging into the fire is a gallant face to wear, but there is another face of courage, one that isn't awarded with praise and renown. This other face doesn't beg for headlines, interviews, or cover stories.

In 2007, the Center for Disease Control and Prevention estimated that 1 in 150 children have autism.

In 2009, the number fell to 1 in 110.

In March 2012, the CDC announced their newest findings. According to their report, 1 in 88 children have autism. Autism Speaks Chief Science Officer Geraldine Dawson said "The CDC's new estimates of autism prevalence demand that we recognize autism as a public health emergency warranting immediate attention."

In 2013, at the age of 18, Montana native Alexis Wineman became the youngest woman to compete in the Miss America Pageant. More meaningfully, considering she was diagnosed with Asperger's syndrome and "PDD-NOS (Pervasive Developmental Disorder-Not Otherwise Specified) at the age of 11, she became the very first individual to receive this honor.

Also in 2013, kicker Anthony Starego nailed the game-winning field goal for his Brick Township High School Green Dragons in the 2013 State Championship, giving the Green Dragons a 26-15 win. This would seem like any story about a kicker winning a game for his team, except that Ray and Reylene Starego adopted Anthony when he was three years old, the 12th and final time of his life. Changing homes wasn't the only instability of his life; Starego was also autistic. Winning MVP as well, he became the first special needs player to earn that distinction in the 36-year history of the U.S Army All-Shore Gridiron Classic.


Three stories. Two individual accomplishments. Three acts of courage.  Yes, they made headlines, but were they described as courageous acts? No. Simply "outsiders" doing great things, given their condition. The ill-starred spin of their lives is what got them attention, not their actions themselves.

They are the people who wear the other face of courage. They wear the face of courage unseen yet inconceivably tenacious, but hidden under an awkward, rigid, and anti-social shard of the commoner's understanding of their lives. Did they did not save any lives? That is a statement based upon perception. The vivacity of Ms.Wineman and Mr. Starego reverberates throughout the whole of the universe.

"But he's so different"

True.

"But she's so rigid and awkward" 

That is true as well, but you know what else is true? They were created that way for a reason, a special reason that the normal of society will never understand. Through their actions, fearless and undaunted, they shine a lustrous light upon the shadows of those like them, those that are afraid and unwilling to come out of themselves and show the world their faces. Their actions illuminate the minds of doctors, scientists, and researchers and show them that autism is more prevalent and misunderstood than what we are ready to except. Their actions show the hateful and harmful critics that while they may look, speak and act differently; they are just as capable of great things as the next man or woman.

Today, Alexis is currently an undergraduate at Huntingdon College in Montgomery, Alabama while Anthony has completed his unprecedented five years at Brick Township High School after U.S District Judge Freda L. Wilson wrote, "Plaintiffs have failed to show that the Association's decision denying Anthony a waiver violates the ADA."

So the next time you think of someone "courageous", really think about what "courage" means, and the many faces it wears, because not all courage is reported, and not all faces are seen.
"I will be successful if just one person encounters a child who is overstimulated without staring, if one teenager invites an "outcast" to lunch or just smiles at him or her, or if one employer gives a job to someone who might not be able to look the interviewer in the eye."
                                                 
-Alexis Wineman to CNN, January 17th,2013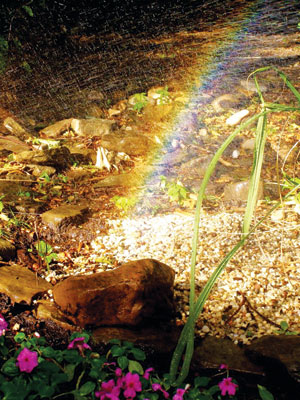 © Kristine B., Setauket, NY