Overserved and Undecided
MAG
January 16, 2009
There is not much in this world that will get me up at five in the morning. A tsunami perhaps, or a pile of hundred dollar bills garnished with a Ferrari and a supermodel. There is even less that will get me up that early twice in three days. In fact, as far as I can remember, this is a new personal record. Until the red convertible side dish shows up, the Obama campaign takes the cake for stealing these hours of sleep. Or I should say, eight years of Bush presidency does.

This was not the first election that inspired me to skip happily out of school, don my liberal fan-boy costume, and wake up sleepy Republicans. I did it four years ago too. I spent the morning of election day in the rain, hanging monochromatic John Kerry flyers that read "Vote for me, I guess" on sketchy dog-protected gates and doorknobs. I didn't talk to anyone. I just followed orders. I didn't really care. It didn't matter all that much to me if Bush won again. I didn't have a job and I didn't know anyone who was in the war or died on 9/11. I was not adversely affected by the regime. All I had was my parents' guarantee that Kerry was the right man for the job … and that I would miss four days of school.

I'm still not directly hurt by any of Bush's policies, but I am four years older. I care about my future because my present is becoming increasingly important to me. The economic crisis is raising candy bar prices, I know more gay people who can't get married, and I'm tired of hearing about the war. When I'm in a more philosophical mood, my favorite notion is that the world revolves around me, and I like to think it is because I finally cared and got involved that Barack Obama won by a landslide.

My egocentric worldview collapses when I realize that the single most important person in existence would not be sent out canvassing. This is the one campaigning activity I did not feel enthusiastic about – and naturally the one I was asked to do on the first day.

When we stepped into an Obama campaign office in Ohio, the first thing I saw was a sign that read, "Step 1: Get Lit!" Within minutes I found out that it meant "literature," but until then I was amused by the idea of boozed-up canvassers stumbling out the door to go change the world. Maybe the alcohol would dumb us down enough to communicate with the average undecided voter.

We were given pins, routes, partners, pens, scripts, training, granola bars, and "literature" (which in fact are just fliers, for those of you who, like me, thought we'd be handing out Hemingway and Nab­okov). I was paired with my mom; she had the odd side of the streets, I had the even.

The first door I knocked on gave way to a man who took one look at my Obama pin and told me to "go buy someone else's vote." I shook off the shock a Bay Area boy gets when he finds out people actually do vote for McCain, and looked at the next name on my list: Sparkle French.

With a name like that I imagined she would be a movie star who would welcome me and give me expensive things. When I got to her house, the door was open. I knocked lightly and stifled my disappointment at seeing a 53-year-old woman playing Wii in her underwear. She gave me the once-over, and I didn't even get to introduce myself before she snapped that she was voting for McCain and returned to her feverish tennis match. I excused myself and headed to the house next door, on whose porch lay ripped versions of my "lit." I marked "Not Home" on my tally sheet and moved on.

Mom, I don't think we're in California anymore.

Later, when I knocked at the house of a fellow named Bob, the round man who appeared had obviously consumed a few beverages in the last hour. His cheeks blossomed in an uncanny international orange. I asked whether we could count on his vote on Tuesday, pressing my flyer against his screen door.

"I don't know, man … I'm voting for Jack Daniels," replied Bob. He looked at me expectantly, as if he had just said the most hilarious thing since the chicken crossed the road.

I wished him luck and marked "Undecided" on my tally sheet.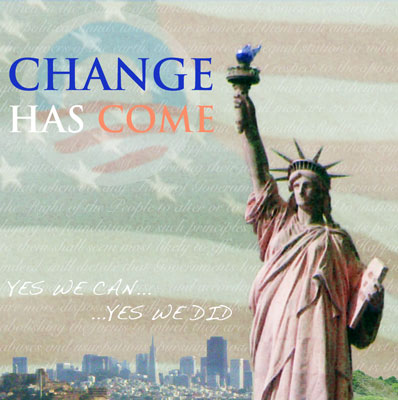 © Michael D., Hawthorne, NY