Untitled (Near Near Minter City and Glendora, Mississippi)
June 10, 2014
<i>On a photo on display in the Metropolitan Museum of Art.</i>

<i>Untitled,</i> a photo by William Eggleston.

Hard to say why it intrigues me.

Perhaps it's the color.

After all, always, I've preferred pithy unsaturated hues rather than nuance. Van Gogh rather than Monet.

But Eggleston's photo is brighter in real life than van Gogh is in imagination. The sky is deep and bright and vibrant blue, the grass thick and green and healthy-- I sense, from a recent rain.

The road stretches out into the flat horizon, surrounded by rich brown soil. Telephone poles span the clouds. It is 1970. Presumably near Minter City and Glendora, Mississippi.

And the black woman walks. What an enigma. It's the middle of the wilderness, not a person all around; she's alone. And though no cars are in sight, she walks in the dirt.

Her dress is a rich woman's dress, scandalously high, halfway above the knee-- a spring green dress wit three big buttons. But the rest of her is not rich. Her hair is wrapped up in a dirty white cloth, she is barefoot, and though she totes a plastic bag, she carries no purse.

I love her instantly and the scene that surrounds, but can only wonder and dream about who she is and what she is doing.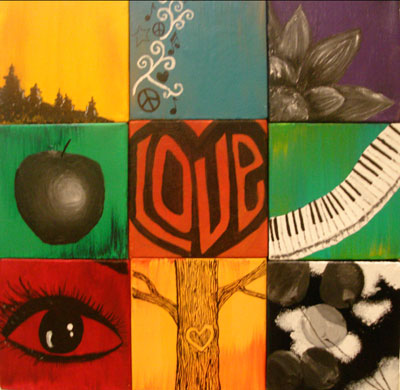 © Christina E., Henderson, NV