The Power of Youth
March 25, 2009
People often underestimate the power of today's youth. Despite the image of our youth and pre-imposed judgments that people have of our generation, youth understand more than they are given credit for. They deal with a lot more and do a lot more than many people assume. It is crucial to a successful future that adults put aside the judgments they have and give us a chance.

There is evidence all around us of the "Power of Youth" that so many young people show. For one, kids all over the world manage to go to college- despite the odds. It takes a lot of hard work, in addition to scholarships and financial aid, but they manage to succeed. I have watched inner-city kids, once involved in drugs, gangs, and alcohol, turn their lives around and get into college.

Youth also have a powerful involvement in the community. Just one example of this is the story of Corissa Teft and her work in nursing homes, as illustrated in the article, "Good Morning America Turns a National Spotlight on Central Square's 'Pajama Girl.'" In fact, one of my friends volunteers regularly at a local nursing home. She became very close friends with one of the women who lived there. If my friend neglected to go to the nursing home very frequently, she would call her at home and ask her to come visit.

Kids all around us are involved in their communities. Mostly over the summer, a few girls in tenth grade and myself worked at Orenda Springs, a not-for-profit organizations aimed to get kids away from drugs and gangs, and to keep them making the right decisions. In September, ESF (College of Environmental Science and Forestry) brought their freshman class for orientation. Along with many others, we worked for the two weekends that they came. Through a complex system of ropes, pulleys, and cables, we belayed kids on the high elements. It was almost comical to watch a bunch of 100-pound girls hold the lives of kids over six feet tall in their hands. One stands out in my mind—Mike. He asked one of us, with a smirk,

"What are you, like fourteen? And you expect me to put my life in some fourteen-year-old's hands?" Her response?

"Actually, I'm turning fourteen in two weeks." I had to belay him. During his climb, he remarked,

"I'm gonna jump! Just so you get jerked off the ground. Ha! It hurts, does it!" I restrained myself from telling him that I didn't have to catch him when he fell. He didn't seem very appreciative of the fact that I had his life in my hands. This was just one example of how someone only a few years older than us underestimated what we were capable of, and of age not determining character. All day we belayed, from seven o'clock in the morning to nine o'clock at night. It was exhausting, but after one person fell, it was an amazing feeling to know that you caught them. That you saved someone's life. Professors and students alike were impressed.

Kids around the world deal with a lot. So many have good character, sometimes better than those older than them. Our involvement in the community is crucial to triumph over the problems we face today. Adults must learn to trust and engage with today's youth—for we are the future of the world.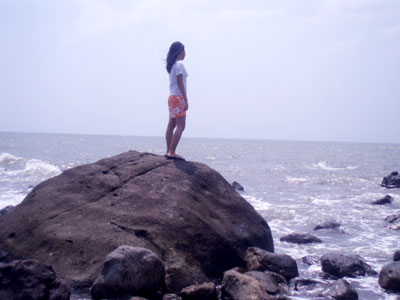 © Grace L., Bacolod City, Philippines