Insanity's Attack
April 11, 2012
Sometimes I want to turn back, run to the first psychiatrist and scream in his face, asking what happened that
day that made him so certain I was crazy, demand to know why he was so certain that amount of medication
was a good idea for a twelve year old. I'd love to strangle him until he admitted he was snorting cocaine
when he got up every five minutes- make him grovel at my feet and tell me that his degree hung on the wall
was useless, and he was full of s***. I want him to feel the pain I felt, and make him understand that if
he'd given me a chance to rest my startled mind; if he'd just talked to me first before jumping on the
drugged-up bandwagon the first day he met me, then things would be different...maybe my life would've even been easier.

Maybe it's not his fault, but above all things I feel after not swallowing those pills for almost two years,
I feel anger. After the storm cleared, while my mind falls into it's few weak points, I feel utter
resentment for the things I agreed to, for the doctors whose decisions I put total trust in. I can
understand that it's their job and that these prescriptions are their pay, and they have families...
yet toying with a young girl's mind in such a vicious painful way seems like they are getting greedy.
There is a way to do that profession and actually help people, ease their pain and STILL get your
paycheck.

My mind has turned. It's a positive change, but a change nonetheless that mostly leaves me confused.
I feel my true mind and ideas pouring out slowly, mixed with the chopped up portions of a life before
that I can't really remember. The emotions I feel from previous years are easy to identify from my
real self: they are fast, jolting my mind with an electricity that's almost physical. They are painful, rooted
with a deep sense of desperation, climbing through my shaky bridge of sanity to cause destruction all around it.
They are shattered and irrelevant, colorful and enticing all at the same time.

They are out of place, yet still feel at home.

The first feeling I noticed that I hadn't felt before was boredom-a restful time that there was no chaos
to delve into. At first I'd look for the thoughts, figuring they'd be hidden somewhere in the back of the closet,
waiting for this peaceful time to wreak their infamous havoc.

Yet they never came.

Well, never say never.

The strangest part about strengthening myself is the "low points" are far more extreme than I can recall.
I'll feel like myself one second, pleased with how well I'm doing, how strong my mind is, and the next I'm
running down the street wondering which way is the best to kill myself. This is the part that frightens me the
most- I never know what's next.

When I was sick, all the time, I expected it. Though it was a constant nightmare, it was still constant. The
insanity and I were enemies, but we had no other friends. I accepted it, and knew it was there- braced myself
to withstand its wrath.

Now, it seems much more terrifying than I remember. The relief of happiness only makes the attack of insanity worse.
And when it leaps from behind me and grabs me by the throat, the switch is flipped into my old thought processes
the doors of the darkest places are opened and I wander inside, head hung, defeated.. yet at home. I understand
this world of horror, I am sickeningly comfortable in this terror. It's all I knew for so long, and happiness
is such a let down when you know insanity is waiting around the corner for you. Disappointment has always been
my least favorite feeling.

I feel I'm in shaky transition, on a tightrope of thoughts that I can cross with difficulty, or fall easily.
I feel stuck sometimes, like there are no thoughts at all- slammed into the middle of who I used to be and
who I'd like to be. Maybe One day I'll cross the rope and take a bow...

However free falling is effortless.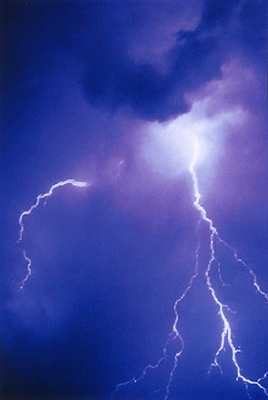 © Steve A., Goodyear, AZ