8 Questions That Are Impossible to Google
July 3, 2019
1. Ways to tell my crush that I like him/her.
Ans.- Be confident. Go and tell them straightforwardly. (Dear google, why would have I asked you this question if I had these many guts?)
.
2.(a)Reasons for having fever
OR
(b)Reasons for having chest pain
Ans.(a)-Symptoms of cancer may include fever, cough, fatigue..
.
Ans.(b)-HEART ATTACK
Think you're having a Heart attack? Call 112 immediately. (Google, you are such a genius, telling me that I have Cancer in less than a minute. Now, please do my chemotherapy too. And yes, tell me from where have you done MBBS?)
.
3. Excuses for not going to a party.
Ans- Don't be too harsh on yourself. Just tell them simply that you can't come or say you are busy. ( Wow! why didn't such a wonderful idea come in my mind? My friends are not as genius as you are. They will definitely believe me.)
.
4. How to find the right career?
Ans. Find a career that matches your interests by simply playing this quiz. (Like now, I will decide my career on the basis of a quiz. Thanks a ton for guiding me the right path.)
.
5. Which stream to choose after class 10th?
Ans. It totally depends upon your interests. Go for what your heart says. (Dear google, my heart is not as genius as you are. It can't decide its interests. Also, I have cancer, so my heart doesn't work properly. Please suggest some other way.)
.
6. How to break-up with your boyfriend?
Ans. Think what you want to say. Be honest. Say it in person.(Sorry Google, but we both are just on two different paths right now.
Or maybe, it's not you, it's me.)
.
7. How to resolve a fight with best friend?
Ans. Tell them your feelings. Talk to them and work it out. ( Google, you don't know her/him. I am sure she/he will start barking if I will say anything. Let it be. We will eventually start talking after two days.)
.
And lastly
8. How to become CEO of Google?
Ans. Firstly, you should have the capability to join in Google as an employee. Then if you want to become CEO, you have to build your product & make it successful like an entrepreneur. (Shouldn't the answer be like- "F*** you. You are trying to become my CEO!?")

Dear Google,
I accept that these were some silly questions. And I will keep asking more such questions because you are the only one to whom I can ask the dumbest of questions without the fear of getting judged. Please cope with me. I don't know about intelligence but you are definitely too calm and patient to handle me. And yeah, please don't be so genius. I am not like you. I cannot think as rationally as you do. Please become a bit humane(I know you are a machine, but still. Please!). It doesn't matter your answers help me or not, you always ensure that there is someone who is always ready to listen to my utter nonsense. Thank you for always being so supportive. And yeah! now I am going to search- "how to say thank you to Google?" So be ready with an answer.
Yours truly,
A confused soul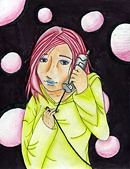 © Emily M., Milford, CT