Wallflowers
June 28, 2019
It always annoys me how willing girls are to play the "damsel in distress." Yes, we girls may not be physically as strong as boys (on average). We are, for the most part, smaller too. Evolutionarily speaking, we are supposed to depend on men to bring us food while we make babies. Historically it has made sense for women to look to men for protection.
However, society now is set up so that we women can support ourselves just as well as men can, if not better. We can be just as independent as men. Even so, many double standards still exist from the time when men were seen as the dominant sex. For example, in high school, boys are still expected to initiate romantic relationships and pay for dates, while girls are expected to be passive and look pretty.
I like the idea of a boy treating me with respect; girls should do the same for them. However, it makes no sense whatsoever that boys should be the only ones to initiate a relationship when girls are just as capable of doing so. Many girls believe it is not their place to approach a crush because of standards that have existed in our society for ages. However, these ideas are outdated and discourage girls from empowering themselves.
"I don't think I'd ever ask anyone out because it's so embarrassing. I'm not a very forward person," says Stephanie, a junior at my high school. She has always been shy and says, as a result, she does not have the confidence to ask someone out. Stephanie does not directly relate this to societal standards but admits that this could affect her on a subconscious level.
Some girls, however, are confident enough to take the first step. Imari, a sophomore, has asked two guys out.
"I knew he wasn't going to ask me because I wasn't too obvious, so I thought, if he's not going to ask me, I may as well ask him. There's nothing to lose," she says.
The first time she asked someone out was for the Winter Semi-Formal Dance her freshman year. He turned her down. But last summer Imari asked out someone else, who said yes. They are still dating, and she enjoys the empowerment of taking the initiative.
"When a girl asks a guy out, it's different. It's a lot more fun because the ball is in your court. You have all the cards. You're not sitting around waiting," she explains. Imari acknowledges that there are societal standards that say boys should take the initiative instead of girls. "There's more pressure on a guy," she says. "Girls expect a guy to just ask."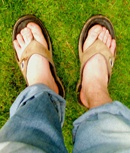 © Caitlin E., Sammamish, WA