Wanderlust
February 20, 2016
I sat on my chair and tucked my legs under my desk. My hands moved on their own accord after years of the same routine. Turn on the laptop. Open browser. Go on my most visited site: Google Maps. Just like that, the world was at my fingertips, just itching for me to select a location. Any location.

Zooming in on a group of islands in the northeastern hemisphere, I selected a particularly vibrant city and activated the "street view" function. The hustle and bustle of my home faded as I became immersed in a virtual world of a better reality.
I sauntered down the congested streets of Tokyo filled with foreign words and faces. The faces in my line of sight made up only a minuscule portion of the city's 13 million inhabitants. Overhead power lines hung everywhere, making the city look like an intricate communication channel, quite an apt term for a city so humongous. My eyes remained glued to the screen as I passed towering buildings and beautiful parks colored in autumnal hues.

But then suddenly I had a change of heart. Without so much as a shift of my fingers, I made a 5,888-mile leap around the globe and landed in the summer breeze. Five seconds was all it took.
Trees were lush and green, and the ocean a deep shade of blue. I enjoyed the unobstructed view of the horizon from where I stood on the Dalmatian coast. Being here in real life would require a degree of physical exertion because the terrain was rough and flanked by protruding rocky walls, but of course, it was not a problem on screen. Simply a degradation of what could have been a holistic experience.
Once Tokyo and Dubrovnik got boring, I easily made my way to one of the most remote and harsh regions of the world, Siberia. This time, it took me seven seconds.
The buildings and ocean were replaced by a stark landscape of moss and shrubs that seemed to go on forever. I imagined what it must be like to be in a place so desolate that not even trees survive. To breathe in such clean air and admire such inhospitable yet majestic beauty.

I slammed my laptop shut as an inexplicable wave of exhaustion washed over me. Not from crossing 10,000 virtual miles, but from realizing the monotony of it all. The "life" I was leading and not living, and all the insignificant tasks I had to complete here in my thoroughly explored niche of the Earth.

There's a whole world out there, but I was propped up at home, in a room with no window, completely secluded on a small island nation. "One day," I told myself. One sweet day the world would not be so mysterious, so unreachable. I will get out of this place; but at the moment, I have a laptop that is connected to the world. Even if it is just the pixilated version, I am satisfied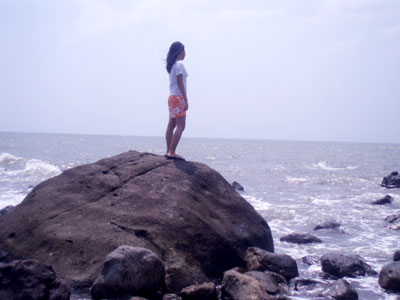 © Grace L., Bacolod City, Philippines