Hiraeth
April 14, 2014
I promised myself I'd make friends, expand my horizons, leave my past of lies and depression behind for something better, so I did. The first week or so of school, I'd assumed he was a student teacher, or maybe a Teacher's Assistant, there was just something different about him, maybe it was because he was older, or perhaps wiser than the rest of us, but I think it was the way he carried himself, not in a pretentious, snooty way, but almost as if he knew exactly where he was going and what he was doing with his life. I've so often found myself intrigued by special individuals like this, and imminently ended up disappointed in myself for never talking to or becoming acquainted with them, so with the start of a new school year, I resolved that I would never let myself down like that again. This kid, I decided, would be the turning point, and so he was. His name is Michael, and since I first introduced myself to him, I've decided that he is the single-most fascinating human being on this earth. Tall and lanky, with dark silvery-brown eyes to match his hair, I will never be able to capture the depth and intelligence of this boy in words, but I'm willing to give it a shot.

His strut, I've since found out, comes from something most kids our age don't get, and that is culture. Michael had moved, only weeks before I met him, back to the United States after living for nearly eight years in Qatar. He calls himself a TCK, which stands for "Third Culture Kid." Kids like him, living overseas, have access to so much more of the world than I will ever have, they have a tighter grip on concepts even adults struggle with, such as human nature, and life itself. Michael hasn't told me much about his life as a TCK, aside from a few stories, one about a terrifyingly funny bus ride through Malaysia, another about a campout in Dubai, but from these stories alone, I've come to understand the world better. That's what makes these kids different, they get it, they get life, they've felt too many types of cobblestone beneath their feet, experienced too many adrenaline rushes, seen too many colors of skin, to seal themselves off from reality in a bubble of social media and melodrama like so many of us teenagers do.

These kids know what life is, more specifically, what it means to live; they've touched the works of Michelangelo with fingertips raw from clinging to the railing of El Duomo as they ascended its winding stairs, counted the glimmering lights of the eternities, lying on their backs, with eyes sore from the merciless sun of the Sahara. Their toes have been licked clean by the saltwater of all seven oceans, their hair whipped about by all of the seven great winds, minds enlightened by the beauty of the Seven Wonders of the World. The soundtrack of these kids' lives is a global anthem, woven together with the shuttle of culture, each thread of tradition, experience, and love, adds its own bit of scintillating beauty to the breathtaking symphony which shines through the eyes of each and every one of these kids. I don't know where Fate's wings will take me, all I know, is that I will keep what little of this symphony Michael has given to me, because with every step closer I get to the reality he once knew, the clearer I can hear earth beckoning me to come and experience life, my name carried upon the breeze.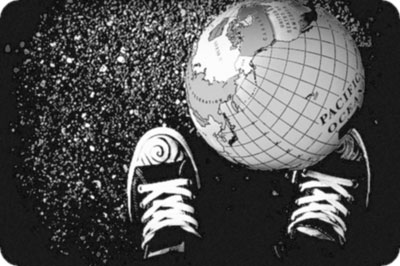 © Kailey E., Crownsville, MD