More than a Vacation
October 15, 2008
"I'm a what?", "You're a Yankee.", "Like the baseball team?" I was confused beyond belief. "Yeah...basically.". I stared at the teenagers before me. "Why? I'm not from New York...besides I dont even watch baseball." I answered still confused. "You're from the states, and you yank...like the way you speak, "like this(bad impersonation of my Jersey accent.)" He said smiling. I raised an eyebrow..."I'm sure that I dont talk like that."I answered fixing my white polo shirt. "Well not exactly like that."
Leave it to my parents to decide moving to an island made sense. I surely did not fit in, I had long permed hair, a funny accent,a very yellow complexion, and a totally different look from the other kids in my school. Now there I was staring at some teenagers from my school, lost and kind of nervous. Their accents were so thick that I could hardly make out what they were saying. I was just hoping that each time I was guessing correctly. Boy did I feel out of place, sitting in the library of what the locals called downtown Christiansted or Town. When was my mom coming to get me? Not sure I could take more of this confusion. "Why you look frighten or something...am I scaring you?" The only guy who's name I later learned was Emerson asked. "No I'm just a little bit confused." I answered turning back to my homework. "Oh... yeh deh man...." Emerson trailed off with his friends.
Chena... New student...pretty confused about the new culture I was being surrounded by. I moved here, kind of thinking that I would be in a community of barbarians. I was expecting monkeys,alligators roaming the streets, people in huts... you know...all that third world stuff. And they were expecting a Glamorous, rich, sophisticated "Yankee"flying to school in her private jet every morning. Well werent we both up for a surprise? St Croix was nothing like I'd imagine. It was actually... pretty nice...for a vacation spot. Why were we living here? I would never learn the language, or get used to being a foreigner.I'm surely not going to last here.
Seven years later I'm riding home with my best friend. We're dancing to Dancehall, talking cruzan about all the new Yankees in our school, snacking on gooseberry stew. St Croix had become way more than a vacation...it became my home. I think I'll stick around, wonder where the lime at(meaning where everyone's hanging out). Oh well I'll call "deh Crew" in the a.m maybe we can go to the beach tommorow. Yup...this is my home. Welcome to St Croix.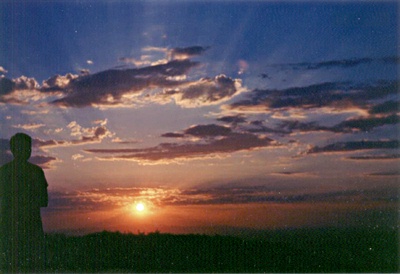 © Anonymous