New Jersey Seasons
November 5, 2013
Most everyone says fall is the prettiest of the seasons. The leaves change from a boring, uniform green into reds, organs, yellows, and browns. We rake the leaves and jump in them, laughing and smiling at the fun activity that can only be done once a year. When all of the leaves are gone, we will anxiously await the next coming spring, just to watch all the trees on our block come back to life and die again so we've more autumnal photos to take and leaves to play in.

In fall, the air begins to get colder and colder. Children are seen outside less and less until they move into their playrooms until the thermostat reaches at least 70 degrees once more. The towns cleaning systems haul away all the fallen leaves in trucks to be properly disposed of. We end the season with bare trees and usually a first fallen snow. But by then, no one thinks of the season as fall anymore. We are all eagerly awaiting the next three months, the ones we classify as the winter season.

It's the most wonderful time of the year. Snow falls a foot at a time, and school and work comes out with surprise closings. Winter gives us these little gifts of a mini vacation, and we accept them with greediness, complaining that one snow day doesn't become two or three. We curse at the sky, demanding more inclement weather. When we don't get it, we moan and proceed to clear our driveways and sidewalks, knowing that a regular schedule is about to return to our lives.

By the end of winter, many of us are ready to say goodbye to the frigid season. The cold weather is becoming just too much, and the stores are tempting us with short sleeved shirts and lightweight pants. Happy pastel colors excite us, and we forget that, at one point, we were so anxiously awaiting the start of winter. But three months is a long time, and we need a change. Now.

Ah, spring. Like fall, it is a transition season, taking us from winter into summer with a gradual increase in the outside temperature. There are a few fluke hot days when tank tops and short shorts make a guest appearance. Girls are excited to wear the wardrobe staples they had been forced to leave in their closet, and guys are more than happy to see them again.

There are flowers on the trees where leaves soon will be. Everything suddenly begins to grow at a rapid pace. The grass, dead and brown from the last six months of cold, turns green and lush again. Forsythias milk their two week blooming for all that it's worth; the striking yellow is just too hard to ignore. Seasonal affective disorder patients are about to enter their period of reprieve, for the cold depression is no longer fueled by the weather. Snowfall is back to rain, and umbrellas are once again deemed necessary. But we don't always mind. We are all sick of the dead things, for there are no longer fall leaves to make them pretty, even when they are no longer alive. The rain will provide instant replenishing of the green that we are looking forward to seeing again. It has been too long since that color has made an outside appearance.

Spring helps us all prepare for the scorching hot days of summer. Summer, when the days are the longest and the air is the hottest. Everything is at the peak of their lives. Birds are all over the place, as well as insects and other bugs. If one gets too close, we swat at it, with the intention to kill. If we succeed, we smile in triumph, then promptly forget about the murder we just committed. We have just facilitated our own lives, but at the cost of another.

We enjoy our summers, but at a cost. We know that fall is fast approaching, when the weather will get cool and winter will be slowly put upon us. But that's okay. The fall means pretty colors, and jumping in leaf piles, and parents no longer pushing for their children to get some sun. Yet, knowing my species, we will surely focus on what there is to complain about. After all, how can anything be classified as good, if there is something wrong with it?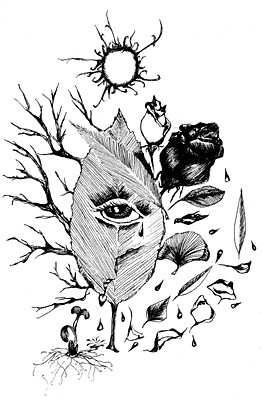 © Cara L., Cheney, WA