Traveling
June 25, 2013
We cannot hope for everyone to have the same exact thoughts, or ways of thinking. To most people it is very difficult for them to live with this fact, but to several people (including myself) it is almost a blessing. Living in world where everyone has the same thoughts would make everything so much less exciting. I will admit that there are times it would seem much easier to just know exactly what someone else is thinking, but we are all different. We can never truly know how the world of someone else's mind works. Which is why I can't tell you how everyone's mind is going to work, but I can tell you about mine.

My mind almost is almost my own imaginative Bermuda Triangle. All along the ridges of my mind is a security system that is so sensitive that only a few people are welcome into my mind for each year. Everyone who is not welcome will be swept back to reality by my subconscious ocean waves, and those who are welcome will be granted with a stone path that will lead you to a magnificent city that holds so many places to visit that it would take you years to visit it all.

Since there is much to do in this beautiful city, I will try to summarize most of it. When you first enter the city there is an arch laced with gold pedals. From a distance it shines brightly as if to guide you to it. In previous years it wasn't there at all because there were hardly any people that were welcome to my mind at all. Yet now, it shines probably as bright as the sun. After the illuminated glow of from arch, there is the city itself. Several houses will come into view, but these houses are nothing like our modern day suburbs. They actually are more like the log cabins that you would see somewhere high in the mountains. They all have some sort of homely originality to them. You will never see two houses that are exactly the same in my city. When you are there, I would highly recommend staying in one of my skillfully architected houses, or apartments. The houses there are built so carefully that there are almost now flaws in them. They also have a very unique Victorian interior. But staying there is the only way to get the full experience.

When you aren't in your house or apartment you can walk around the city. The only people who stay in my mind are the ones that are worth remembering, so there aren't going to be any burglars or mobs on my subconscious streets. You can walk safely and go anywhere that you have my permission to go to. The city has fought off the last bit of crime it had. At one point it was a very fast pace city and there were several people there that would be willing to rob or kill anyone. This happened after I kept letting in the wrong people and I constantly got scammed by them. It either happened through money or though the several favors I did for them. After all of it I never got anything in return, but I have found knew friendships and I have gotten rid of several of the old since then. That is why the streets of my city are clean now, and it is also the reason why I am so much pickier with the people I let in. I am happy to have my city be so much less stressful and I am sure if you went there you would love it too.

When wandering on the streets of the city you will notice that there are several little shops. They are the supply shops of my mind. I created them to store things that I need to use. In each shop there are different sections that are specially built to keep my thoughts. I use the shops as a little storage for things I will need, but don't absolutely need at the moment. I keep my saved thoughts in these shops because I feel like sharing what I know to the public is important. Which is why you are welcome to visit my shops and even buy things if you'd like. When you do buy something it is almost as if I am teaching you something, because I will still have that knowledge and you will be buying my thoughts on it. Which also allows you to gain more knowledge about me because you will know my personal thoughts. But there is still a fee on each of these thoughts so there is going to be a limit on the items you buy. I would still recommend you going to these shops though. Even just browsing around on shelves is very interesting.

The city is much more than just houses and shops though. Like in any city there are monuments that tell the story of the city's history. For instance there is a monument of a giant ten foot tall steel lock that is sitting outside of the court house. It symbolizes locking all of the bad people in my life out of my mind. It was put there after the police captured the last members in the largest mob in the city. Their terrorism has taught me to look out for people like that and the lock itself was actually used in the old prison there. The old prison is also a place to go visit because it is no longer and is no longer holding prisoners. Now it is used as a museum.

There is also the replica of the Statue of Liberty outside of the city. Under it lies a steel sign that reads "We shall not forget the patriotism that let us inherit our freedom." I am a strong believer in American patriotism and I thought it would be a good idea to remind everyone that patriotism still exists. It is not something we watch in movies or read in books, but it is something that lives in our American hearts. Even though it took a long time to build its scale and beauty of it almost matches the original. I also am planning on keeping this monument because I hope that one day my kids will believe in patriotism too.

There are several more monuments and historical markers in the city but you will have to come be invited to the city to see all of them. In each one of them there is a story, and I created the city to be large, but still very close together. Therefore, each monument or shop you go to will be in walking distance from each other and there shouldn't be any worries about distance in the city. You should also never worry about the weather when you are in the city because the city's weather is automatically set to a temperature that is not too hot but not too cold. The city is almost always set in autumn because that is my favorite season, and it usually has the best weather conditions. So the walking conditions are always going to be sublime for strolling around the city.

The outside of the city is full of beautiful country scenery. Streams, valleys, and hills surround the city, while sharp mountains surround the hills. And inside one of the valleys and huge herd of wild horses graze. These horses are only seen by the most trusted visitors. Hardly anyone even knows about them until they hear the rumors about them in the city. Almost everyone who lives in the city knows about the horses, and they all hope one day that I will give them permission to go to the valley. You may wonder why people need permission to go see the horses, and I know it seems strange to keep their location so to secret, but it is for a good reason. You see, the horses symbolize my creative thoughts. They all run wild and free to wherever they please, and they have absolutely no rules for what they do. But my creative side is also the side I hide away from strangers and people I don't trust. But it eventually comes out. The horses are all of my secrets, my talents, and my emotions combined. Like most people I am not going to express my artistic-self right after meeting someone or becoming friends with someone. Which is why the herd of horses don't wander from where they originally came from. They don't want to have so many strange new people thrust upon them all at once.

There are so many other places in mind that are worth traveling to. So whenever you are let into this brilliant place of mine you will get to see all of these things and most likely other things also. Since I am still young, if you wait longer for your invitation then you will most likely see more new things in my mind than there now. You must also know that since everything in my mind is always changing, each of your stays there will be different. You may also see some new people coming in and out too. But I am afraid you will just have to wait and see.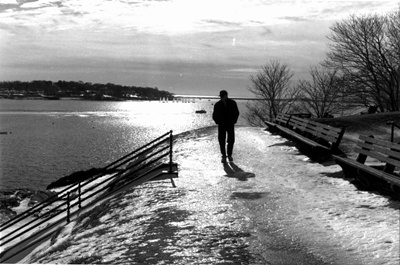 © Steve S., Marblehead, MA