Bazaar in Uzbekistan
MAG
May 26, 2012
Walking down the street, you don't know how it happens – but it just happens. You're in the Qato'rtol bazaar. Looking back, there is no clear boundary where the street shops end and the bazaar begins. It's chaos, and it's beautiful.

In front you see the archways – the entrance to the bazaar – but it's a nugatory landmark, unable to hold the bustling inside. A mixture of smells fills the air: samosas stuffed with potatoes, meat, or pumpkin fresh from the oven; meat roasting over the electric spit; the stench of unwashed bodies heavily masked with perfume. Before these smells overwhelm you, you're swept into the jostling crowd of shoppers. You're caught off guard by the young Uzbek boy pushing a cart filled with hot bread, yelling "Posh!" to everyone who gets in his way. The black market money exchangers call out to you, "Dollars yes!" An odd-looking tropical ­fruit booth seems out of place yet somehow belongs here too.

You take a left and find yourself in an alley. Little shops to the left and right are filled with everything from shampoo and soap to bolts and nails. The Chinese-import store is quite popular with its quirky ceramics, candles, and photo cases. Other stores are stocked with nail polish and ­earrings.

Next, you enter the main shopping building. It's two stories high and not well lit. You're immediately hit with the smell of zira, ground cumin. Sellers take a handful and let it slip through their fingers back into the bucket, causing the smell to drift toward you. To the right and left are shops selling packaged dairy products, but you pass these by because fresh dairy products are available in another area of the bazaar.

If you're a girl, you might hear whistles or whispers in your ear as you pass groups of Uzbek men. You do the only thing you can: roll your eyes, flip your hair, and walk away.

Wandering deep into the heart of the bazaar, you pass different animal parts for sale. Some flesh just sits, with no packaging or refrigeration. Flies buzz around cow tongues and hearts. If you have a weak stomach, you'll be looking for a trashcan. To the left is a pork butchery. Uzbekistan may be a Muslim country, but some Uzbeks still eat pork. There are many different selections of pork, even smoked and seasoned pork fat. You'll see sausage shops hung with links of varying color, shape, and size. You might notice how many candy and cookie shops there are that line store walls from top to bottom. It might cross your mind that it's a pity so many of these snacks are not well made or even clean.

Once you've finished shopping in the inside bazaar, you find the staircase that leads down to the fresh ­produce section. This section isn't protected from the wind or cold, so it gets quite chilly in winter. Ahead is a big tank of half-dead fish. The air is so chilly you can see your breath, and yet the fish-seller offers to clean your fish for a pitiful 50 cents.

Moving on, you see a few rows of fruit and vegetable sellers. As you pass, friendly sellers call out to you, gesturing toward their treasures, ­assuring you that they offer the best price for the best quality. Unfortunately, there aren't many varieties of vegetables in the winter – only staples like potatoes, carrots, and beets. The fruit is limited to apples and expensive oranges.

You're glad that you overlooked the packaged dairy products when you find the old woman selling homemade yogurt, cottage cheese, milk, and butter. Seeing her sipping hot tea on this cold day, you can't help but smile at the little things that make people content. If you buy a jar of yogurt, she will be sure to tell you sternly to bring the jar back when you're done. Eggs are sold here too with carton upon carton stacked in front of you. The egg man smiles as he explains the different kinds, and different prices.

Walking out through the back gate of the bazaar, you find a few taxi drivers milling around, hoping to earn a few thousand so'm by taking someone home. You choose a middle-aged man with a big Russian hat and an old, beautiful Lada – a classic Russian car. It takes a while to pack all your purchases inside, but once done, you sink back into the renowned heavenly seat and relax on the way home.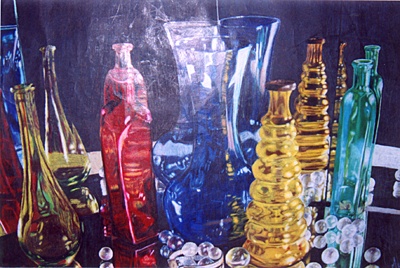 © Meredith S., Kannapolis, NC