Off-Shooting
September 11, 2011
All was still and quiet. I stroked my gun thoughtfully and backed under the sacks that hid me from the enemy's site.

"Pazi! Gledaj okolo!" my father yelled from the barrack in front of me.

"Look! Watch out!" he meant.

I turned and squatted, facing forward. My eyes squinted in the dark tunnel, trying to make out shapes.

Click.

I felt something ooze down my arm. Red splattered. My eyes widened in shock. Where had the bullet come from? I looked around wildly.

Click.

Yellow covered my shoulder and I yelled.

"Stop shooting at me Baba!"

"I'm not!"

"Stop shooting behind you!"

"Sure, blame the blind guy! I'm not shooting. Use your eyes!!"

Click.
Pink splattered in my hair and I heard the familiar high-pitched laughing. It all made sense now.

I quickly turned my gun to the side where the building was opened by a bombing and shot at the uneven ridges.

Nothing.
I heard the laughter again and caught sight of his green military uniform above us on the roof. Aiming through the holes in the roof, I shot sets of 5, waiting for a sudden curse to exclaim. It didn't come as the bullets whizzed emptily through the air and disappeared.

"MERIMA! Šunjaj se!" my dad yelled. "He's hiding!"

Full of sudden bravery, I ran with my head ducked to the border of enemy lines and hid beneath the large pillar that barely covered my body.

I spied a black mask peering from a large hole in the wall. Thinking it was my brother, I shot at it gleefully. The object hid, and after laughing itself, held out his hand in the hole.

"I'm not gonna waste my bullets on your hand. Why don't you come out and then we'll talk…" I boldly yelled.

At that exact time, he and I jumped, excessively shooting at each other. In all the confusion of the blasts, my team-mates behind me had missed him and shot me instead, while I was squaring off the attacker. We stood there, broadly, shooting each other until firing had ceased when the paintballs had run out.

"Time!" the referee called, amused at this encounter.

I laughed triumphantly to what seemed my brother, but then froze. The man pulled off his mask to reveal my father's good friend. I had been shooting fiercely with my father's best friend who saved his life? Guilt flooded me.

I too pulled of my mask, and the man had the same reaction. His eyes grew large with confusion, thinking I had been someone else.

"Vow…."

"Yeah…."

He later told my father I had shot him square in the rear, and had scared the nonsense out of him. We gaped stupidly for the rest of the day.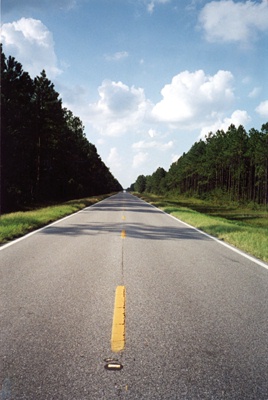 © Amanda M., Coventry, RI