Paris or Poland?
MAG
"Do not speak of your happiness to one less fortunate than yourself."

- Plutarch

Last summer I had the opportunity of a lifetime to go on a mission trip to Poland and Paris. During my trip, Plutarch's advice ran through my head. Reflecting on myself as an individual before and after the trip, I see huge growth in my character because I allowed the wonderful Polish people to teach me what it means to live humbly. Humility is the most important virtue one can possess.

Stepping off the plane in Warsaw, Poland, I felt like I was better than everyone else because I was an American teenager with a seemingly "perfect" life. This was not true, of course, but the Polish truly do believe this and I cherished the idea that others viewed me as someone who had it all. At that time, possessions were important to me and I loved being admired for having "valuables."

At our camp, my best friend Chelsea and I were in a room with six Polish campers. That first night we came trooping in with our Kate Spade bags and huge suitcases stuffed full. I was exhausted and not in the mood for conversation, so I selfishly retreated to unpacking and taking a shower instead of introducing myself and making friends.

Later that week, however, I found myself opening up to the amazing Polish Christians, and I became comfortable enough to share my faith with them. They had so much to offer. I had believed that I had everything because I was from America, but I soon realized how much I was learning from them. I was supposed to be serving the Polish, but often it was them helping to serve our needs.

Marta, a 16-year-old from Warsaw, taught me a lesson of humility. She is gorgeous to look at, but what is more striking than her beauty is her genuine love for others. Marta truly puts others before herself, and many times I saw her voluntarily pushing a boy in a wheelchair when others had just passed him by. She was also happy to spend time with other campers who had no friends. I loved talking to her and hearing about her boyfriend, her home life, her dream of coming to America, and her relationship with God.

One night Marta asked us to show her our American "cosmetics," as she called them. Staying up until four a.m., we showed her our hair straighteners, make-up, and magazines. Marta loved it all, but looking back, I realize that instead of humbly offering my things for her to enjoy, I only showed them off and saved them for myself.

Marta taught me another lesson the day we were leaving for Paris. Chelsea and I were busy packing when Marta walked in carrying every piece of clothing she had brought with her.

"You can take anything you want, because I know you like my clothes," she offered.

Chelsea and I looked at each other in awe and disbelief. We really did love her clothes and had complimented her all week, but this was all she had. We took one shirt and a sweatshirt.

"Is there anything of ours you would like?" I asked. All she wanted was "those shorts you all wear ... athletic shorts, I think." All week she had told us how much she loved these because girls in Poland did not wear them. I gladly gave her a pair, as did Chelsea.

On the plane to Paris, Chelsea and I reflected on Marta's act.

"I can't believe Marta would offer us all the clothes she owned. She is such an amazing person," Chelsea said, sporting Marta's sweatshirt. We both wished we were still in Poland, and as we flipped through our photographs, tears welled in our eyes. Never before had I felt so much love from a group of people. I am so grateful for how comfortable Marta made me feel in a place that was so foreign. I do not know how I can fully express my gratitude to her.

We were not as happy in Paris as we thought we would be. After a few days, I said to Chelsea, "I would rather have stayed in Poland instead of coming here and gaining these luxuries, which is crazy." I never imagined myself saying something like that. I found myself wishing that I could go back to my new family in Poland.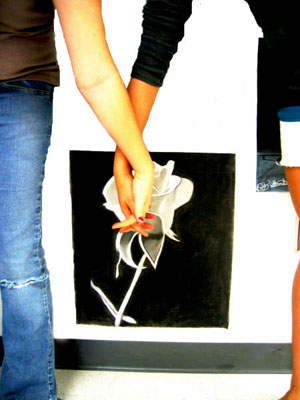 © Anonymous