The Creature: Villain or Victim?
November 15, 2018
Last week, I had the opportunity to witness a beautiful retelling of Mary Shelly's Frankenstein (play adaptation by Idris Godwin), a production put on by none other than Stage One Theater. This was not the first time I had seen a production at Kentucky Center for the Arts; however, it was my first time seeing a Stage One production. I hadn't heard the best things about Stage One from family members, who had seen this production before. However, I was delighted to realize that this was one of the best productions I had ever had the privilege of seeing.
Upon entering the theater, there was a stunning display of architecture. The set pieces were so realistic I felt as though I was in the play myself. Daniel Williams, the carpenter who built the set, has certainly outdone himself. One set piece imparticular caught my eye. There was a window that was on stage during the vast majority of the play, and it was through this window that the play came to life. Through the window, I was able to "see" the rain and lightning that was outside.
This story depicts Victor Frankenstein whose eventual goal in life was to improve the world, instead, he brings something into the world that is seemingly destructive, and cruel. This creature was seemingly human, he had two arms two legs to eyes, etc., but he was so ugly that very few people showed him any kindness. Frankenstein then abandons his creation, leaving him open to the harsh cruelties of the world. This creature was vibrantly depicted by none other than Brandon Meeks. He was able to show this creature in an almost savage way that really brought the story to life. Everything from his grunting to the mere way that he walked was spot on. This grotesque creature brought a lot of trouble to Frankenstein as well as many innocent bystanders. Throughout the story you begin to realize that the creature isn't what he seems, leaving the audience to wonder: Who is the real villain in this story? Andrew Harris had a vision as the director to show the creature's perspective in a way that would make the audience understand exactly how the creature felt. This vision was breathtaking and explained how there are always two sides to a story.
Every actor in this production showed an extensive range of emotion. I was especially impressed by Flynn Harris who played William. During the scene in which he is murdered, you could see his struggle throughout every part of his body. When his legs finally stopped struggling against Frankenstein, the audience felt as though their own brother had just been killed. At such a young age Flynn Harris has excelled in his acting career and will go far.
As someone who is very involved in theater, I was able to really appreciate all of the different aspects that had to go into this play. The sets were exquisite, and the acting was very life-like. I hope to be able to see more Stage-One productions in the future. Next time you contemplate some fun Halloween activities, consider seeing Frankenstein and decide for yourself who the real villain is.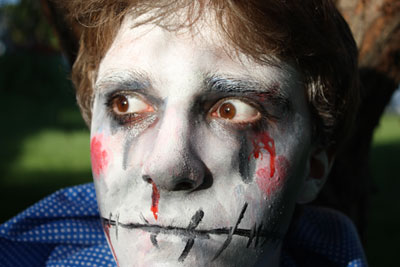 © Katherine C., Lansing, KS