The City You'll Fall in Love With
September 20, 2018

The colossal skyscrapers, thundering noises, and mobs of people make up an iconic United States destination and the city millions of people call home. Maneuvering your way through the streets of New York City is an overwhelming and humbling experience. As you enter the crowded streets you become one tiny fish in the deep depths of the ocean. Although these streets are tough and taxing there is something so inviting about them. The energy they give off will be sure to inspire you. With so much to offer, there is never a dull moment in this vibrant City. There is such an appreciation for this urban culture.
Walking down these busy streets you are sure to see several different coffee shops where inside aspiring writers are typing away or perhaps old friends catch up as they sip their drinks. Next, there are the classic pizzerias where many love to go to get a slice of the legendary New York style pizza. Another city classic are the popular dellis, a favorite quick and easy lunch hot spot. These streets are known for their variety of great food.
A valued aspect of the city streets is the artistic flair they hold. Splashes of color spice up the concrete jungle. Harsh building become an artist's canvas where creativity comes to life. This art is not only used to brighten up the city but also as a way of social and political expressions. A common part of the streets in this city are the rows of colorful flowers lined up waiting to be sold. The beautiful variety brings life into the city. The sweet fragrance given off is much appreciated, its refreshing compared to the usual smells of smoke and garbage. An additional form of art that fills these streets is music. Any genre imaginable from any era emanates from any corner and all alleys. Whether an artist is trying to get discovered, eke out a living, or simply just sharing their passion, the air is filled with joy to lift the spirits of the people. In New York City you do not have to be on broadway to see a great show, there are street performers walking all over to entertain pedestrians in the middle of their busy day. All these different forms of creativity make an appreciation for its beauty and emotional power.
Fear is a thing of the past on the New York City streets. Located on the corner are men and women dressed in blue with their badge symbolizing their motto to protect and serve. Knowing there are numerous officers allows for you to enjoy your surroundings instead of being left to fend for yourself.
A huge benefit of the city life is the multitude of transportation options. On any given street you can hail a cab with the wave of an arm or a whistle. You can descend the streets and hop on a subway, feeling the jolts of the starts and stops and hearing the loud rattle of the tracks. Although these are great options it seems the most common form of transportation is your own two feet. Having this many choices allows you to get where you want to go, fast or slow.
There is nothing more Americana than a street in New York City. The many aspects of the urban culture are there on the street at every step and relished by all those who are there to experience it.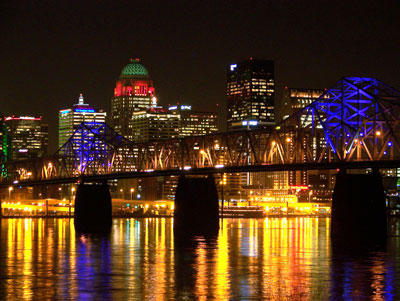 © Katie L., Shepherdsville, KY