From Nobody to Somebody
MAG
January 9, 2017
November 10, 7:00 a.m. My alarm woke me four hours before the start of the state meet. With a state title on the line, I walked down to the lobby of the hotel. I snacked on a better-than-usual breakfast – slightly toasted waffles, ripe yellow bananas, and a scarlet red apple – which would keep me light on my feet. I headed back upstairs to my room, and put on my blue and yellow striped uniform, representing the school and community I love. From there, I gathered with my coaches, and we filed into the small school van to start the 15-minute journey to National Trail Raceway, a drag strip just outside Columbus, home of the Ohio State High School Athletic Association Cross Country State Championships.
We jumped out of the van to go through the low-tech security and enter the "athlete's village," where thousands of kids would be camped out for the day. All of the participating high schools brought a team tent with their school name and color on it; from up above, the village looked like a rainbow. Before I initiated my pre-meet warm-up to examine the rutty, mud-filled course, one of my coaches told me, "All you have to do is finish what you've started."
What a sensational day to run, I thought. Sunshine broke through the slightly overcast sky, a modest breeze flew in the air, and the temperature stood at 28 degrees. Though cold, it was ideal for running.
Halfway through my warm-up on the course, I stepped aside to relax. I reminded myself of how I made it to this day, why I was there. Dozens of the fastest student athletes in the state whizzed by as they trotted their warm-ups, just like I had been moments before. I thought back to my middle school football days when the coaches turned my four-foot-six-inch body structure away from the sport by forcing me to stand on the sidelines, only to get in the game when a play needed to be run out to our star quarterback. The next season, not wasting my time, I stayed away from football. I joined the cross country team to condition for the bitter cold indoor basketball season. At that same time, I found a coach who believed in me. I found that second father that I needed in my life. He threw me in with the varsity group. I was a four-foot-ten-inch seventh grader, running amongst towering juniors and seniors at my school. In my world, I proved to those football coaches that I could've been worth something if they had dedicated some time and effort into me as my new coach did. However, I wouldn't prove anything until several years later.
I received two All-Ohio honors from my sophomore season and as a junior, happened to be one of the favorites to win the state title. With the fastest time run so far that season, all eyes watched my every move. Could I bust out another rapid time? Did I peak too early? Does my body still have another fast race in it? Should I lead straight from the gun? Should I try to sit and out-kick everyone else? Those questions all ran through my mind as I completed my warm-up an hour later.
My coach and I had discussed the front-running strategy earlier that week, and I decided to stick to the game plan. Leading a race from the start and burning more energy than the other runners is a gutsy call, but cross country is a gutsy sport. I began eyeballing my top competition, finding where each one stood on the start line.
Fifteen minutes later – BOOM – the gun exploded, and hundreds of runners hauled out of their starting boxes like a herd of deer after hearing a gunshot. We headed straight for 400 meters before the course narrowed. Bright colored flags lined the course, keeping the spectators back from the runners. I was in the middle of a pack of the most talented runners in the Ohio. Slowly, I threw a few hard, bony elbows and shoved my way through the pack as everyone began to fall into his pace. By the time we made the turn and barreled down the drag strip at National Trail, I had settled into third place, comfortable with my positioning. The crowd consisted of about 10,000 people, and they all roared as the pack of runners ran past them.
A sophomore, which I found out later, took the lead by a sizable margin. Never reading about or hearing of the kid in my life, I wasn't too worried about him; however, I glanced over next to me and saw the kid I had been waiting to race all year in second. I expected a dogfight out of him, and the race would go down to be one of the best in years. The three of us began to separate ourselves from the field behind us. I thought that it might be better to wait to take the lead until the mile marker. We turned on to a hard, solid piece of asphalt before heading back onto the soft, wet grass. I continued my same pace, and I slipped and fell to the ground! The biggest race of my life, and I'm wasting time rolling around on the ground, I thought to myself. I lost time. The two leaders gained a hefty margin as I fell back to the hundreds of runners behind me. My legs were covered in dirt, but that didn't stop me. Quickly, I sped back up to catch the lead two, but the group of a hundred came right along with me. Moments later, everyone was back to stage one again, almost like the race didn't progress at all. That's when I knew I needed to take the lead and keep the pace honest and fast if I wanted to win.
Just like that, the first mile completed, I was out in front. The field of runners began to thin out with me leading the way. My closest competitor and I established a comfortable margin as we weaved in and out of the oak trees, grabbing onto the inferior branches to avoid falling on the makeshift trail in the woods. With our feet squishing underneath us, we came out to where we started the race and began the loop again.
Two miles down, only one to go, I thought to myself. I started an early push and picked up the pace even faster than we previously ran; even so, that wasn't strong enough. Six hundred meters later, my competitor flew past me. Only three minutes left, I explained to my body. I tucked back in right behind the other runner. There were 800 meters left. I tried taking the lead again, making an even stronger push. He would not budge, and he looked strong. I knew he had to be just as tired as I was, but doubt crept into my mind. Similar to a rock being dropped in water, my heart sank about the possibility of not winning the race. I thought about the gutsy call of taking the lead early on, but that didn't matter; I could not go back and change the past. We crossed over the drag strip and headed down the final stretch with 500 meters to go. Once more, I surged, and neck and neck, we exploded at top speed toward the finish line. Everyone in the crowd cheered and yelled at the both of us. I tried pulling away. Two hundred meters out, my legs numbed to a feeling like Jell-O. One hundred meters. Fifty meters. Twenty meters. Ten meters. Just a few more strides. Raising my fists in excitement, I crossed the two blue magnetic, timing carpets. Boom! A time of 16:14 lit up the big screen with my name and school next to it in first place. I completed my dream of winning a state title.
After several time-consuming interviews with the press, still only dressed in my singlet and running shorts, my body began to shiver. Goosebumps formed up and down my body, but none of that mattered. A man handed me my medal, shook my hand, and exclaimed, "It is so awesome to see someone from Northwest Ohio win this!" I sat on top of the podium, my shiny gold medal, outlined in the shape of Ohio, glistened in the sun. A smile broke out on my face from ear to ear.
Like Arthur Lydiard once said, "In every little village in the world, there are great potential champions who only need motivation." Six years earlier, I went from being a nobody, standing on the football sidelines, to becoming a somebody: a state cross country champion.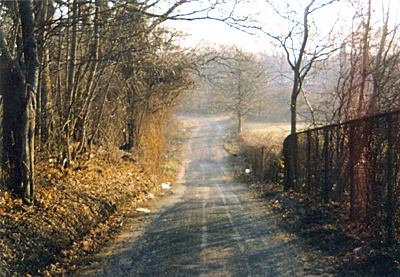 © Cameron C., Milford, CT