Running For Joy
MAG
June 17, 2016
I have experienced a kind of joy that is so complete, so all-encompassing, so sublime, that in those moments when it occurs, I have to succumb to it and let it take over my entire body. It is difficult to write about, because my brain is always focused on feeling that joy in the moment, rather than on remembering it later.
This joy has the most profound effect on my breathing. My lungs inhale infinitely, which is beautiful and heartbreaking and full of release. I'm struck by my own terrible insecurity and anger in those moments when I cannot breathe, and so to breathe freely is precious and makes me feel whole. Asthma (God, I hate even the word) caused by tiny wheezing alveoli, just bloody threads and paper-thin tissue, threatens and looms and leers at my useless body and sometimes keeps that beautiful air from my lungs. I loathe it for its restrictiveness, for its weakening of my ability to inhale what is rightfully mine as a human being, as a creature of the earth, and my ability to take off running through the world on my own two feet.
For I love to run. Ironically, running is also something I once loathed. My mother always asked me to run with her, and I found it pretty much the most boring and tiring activity on the planet – until I realized that I could run somewhere. I abandoned the beaten rubber track of the high school for the Minuteman Bike Trail, which winds through woods, over streams, past a huge dying field of tall grass halfway between my town and the next, under bridges, below swaying trees, through beaten rock trails, and alongside a pond. The pond is my favorite place on Thursday nights and Friday afternoons, when the shouts of coxswains echo across the water and I watch the rowers heft their boats above their heads and trek back toward cars and the main avenue and civilization. The light glitters on the surface of the blue-green-purple-black water, and the sun settles gently, floating on the treetops, buoyed up by the rest of the universe. I can run through this world at my own pace, clench my muscles and go faster, or slow for a moment's walk, letting my cheeks remain flushed and my legs thrum with the desire to keep moving. I can see, really see, the world as it unfolds around me.
And yes, sometimes when I run, I can't breathe. And that is terror, the opposite of joy. But I keep running anyway, and at special times I reach infinity – that zone where my straining leg muscles cease to ache, my entire torso tightens with strength, and the pavement under my feet suddenly seems made of clouds. Then it feels as though I could run forever. The air is clear and perfect and crystalline, and I breathe it without hesitation or a catch or even a hint of weakness. The world is beautiful, and I am suddenly overjoyed that I have been given the opportunity to exist in it.
I tried to explain that once at a party and was, quite literally, pushed out of my chair and laughed at. Can you believe it? Laughter at the idea, the wonderfully simple idea, of realizing how beautiful it is that you exist.
There are, of course, other places in my life where that gorgeous, shimmery joy can blossom. Such joy exists for me often during a theatrical performance – just the right combination of people, just the right light – and thus the profession thrills me. Sometimes being in love feels like that. You know that moment – those multitudinous moments – little looks, brushes of fingertips on knuckles, a hand resting plainly and safely on the small of your back. I call this joy too, a feeling of being infinite, like they do in one of my favorite novels.
The source of our infinity doesn't truly matter. I just know that when I am sprinting, running as if I'm floating across the sea, I feel the joy of being alive. What could be more magical than that?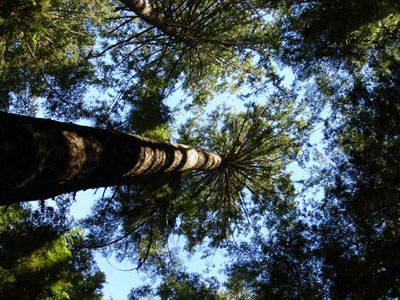 © Janine M., Winnipeg, MB, Canada