Sitting Out
MAG
February 7, 2016
"Go, girl, you can do it!" I muster a cheer as my friend steps onto the competition floor. I watch as she gets into her starting position. Fit. Athletic. Beautiful. The music starts, she launches into her routine, and suddenly I can't watch anymore.
I don't know how I took it all for granted – the ability to move and dance and jump. Looking at the athletes around me leaping, practically flying, rolling, tumbling, it brings tears to my eyes.
That fall, it ruined everything. Now I am chained, my head throbbing and heavy as lead. I drag myself around, living in a blur of pain, ice packs, and pills. It seems impossible that I was ever competing with ease like everyone else.
Now all I notice is the people. Healthy, able-bodied people moving freely. I want to spread my wings and fly, but I can't. I am a crippled bird who can barely muster a hop, let alone soar with my flock.
My teammate's music ends. She strikes a pose, jerking her head back in a beautiful arch. I grimace. Oh, what would I give to be able to do that again! Just nodding my head sends horrible pain shooting through my body. My heart aches to be healthy again. How could this happen? Why me?
"Hi!" My teammate flounces up, still panting, cheeks red. She is grinning widely, goofily, and I force a smile in return.
"Phew!" She wipes a towel over her face. "That was a tough one." My smile wavers. I know what she's feeling. That magical satisfaction of competing – I yearn for it. I want the adrenaline, the nerves and jitters, the relief of being done. I want it all back.
A tear trickles down my cheek, and I wipe it away before my teammate sees. It feels so strange not competing. And yet, everything goes on as usual. Gymnasts perform their routines, the judges judge, the little girls scan the floor for rhinestones that have fallen from gymnasts' leotards. I fell off the carousel, but it keeps turning without me. Another tear trickles down my cheek. Never before have I felt so worthless and insignificant.
"Are you okay?" I flinch as I feel a hand on my shoulder. My teammate's makeup-smeared face is furrowed with concern.
"Is your head hurting again? Do you want me to get you a Tylenol?"
I nod numbly, eyes still glued to the competition carpet. Another girl steps out. Tall. Fit. Able-bodied.
Pain. Before the concussion it was a brief, occasional sensation. When I stubbed my toe. When I ate something that didn't agree with me. But now, pain is all I know. My head is a chunk of lead with flames flaring up in different parts. It's achy. Raw. Persistent. Debilitating. Unignorable. From the minute I wake up to the moment I fall asleep, it's there. It's always there. "It'll take weeks to get better," some say. "Months," declare others. "Even a year." I can't stand the thought of the latter, or even the second. I can't stand another day of this. But I have to.
The pain is not just pain. It's a ball and chain, a prison. Hindering me from performing well in school. Holding me back from letting my creativity shine through my words. Stopping me from doing the sport I love. Making me sit out and watch as the gymnasts around me leap and dance with ease, competing at the meets I was supposed to champion. The ones I've been looking forward to for so long.
Instead, I watch from the sidelines. How nice it must feel not to have a headache. How liberating. How foreign. The pain holds me back from enjoying life. It makes me introverted. It stops me from being me. Pulse. Throb. Ache. Stab. They say it will end, but it feels like it never will.
"Here." My teammate is back, pill in hand. I take it shakily, downing it in a painful gulp. My head hurts a lot, but it's nothing compared to the pain I feel watching. A pill might keep the physical pain at bay for a while, but nothing – not the world's strongest medicine – can numb the pain of sitting out.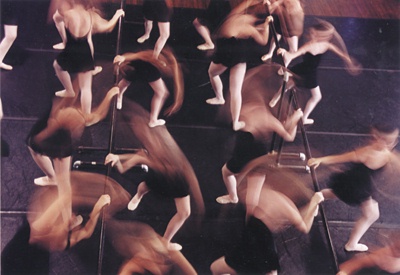 © Sophie K., Cambridge, MA