Why I'm Proud To Be An American
November 7, 2014
Thirty years from now, I will have forgotten every test I took, some of the songs I loved, and the movies I saw. But I will not forget the memories I made watching football every Sunday. Football is the reason I am proud to be an American.

I was born in Chicago, so naturally I am a Chicago Bears fan, even though I moved to Wisconsin early in my childhood. Being a Bears fan called for rivalry during the football season because the Chicago Bears and Green Bay Packers are major enemies. But arguing about players and games was part of the fun of the football season.
My favorite games were the ones I went to with my family. We would go to Chicago and walk around the beautiful city. We would see all the huge buildings and people all wearing football jerseys to support their team. And then we would be in our seats at Soldier Field in time for kick off. Soldier Field is a beautiful stadium, especially when the Bears were winning. There is nothing like seeing thousands of fans cheering one one team. It brought everyone together when people you didn't know would cheer along with you and give you highfives after good plays. The games were always so fun, even when it was below zero degrees and the blowing snow made my face feel frost bitten.

In other countries, they take pride in soccer, boxing, or golf. But in America, our pride shows in football. It unites everyone and provides great memories.

Because of rivalry between friends, games in the beautiful Soldier Field, and fans that have become friends, I am proud to be an American.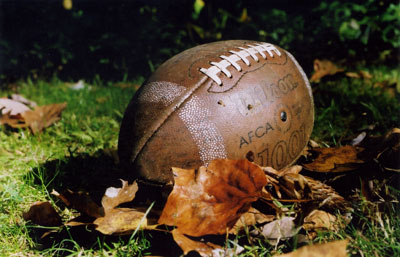 © Michael L., Bethesda, MD