Trials and Tribulations of Learning to Drive
MAG
May 3, 2018
When I received my driver's manual, I was elated at the prospect of approaching this stepping-stone to my new independent life. This book was the key to my liberated autonomous being, when I would no longer be dependent on parents and relatives to transport me from place to place. As I began thumbing through my manual, however, I wondered how I would ever remember the copious amount of information required for the permit test. Navigating a multi-lane intersection or a New Jersey roundabout, or quickly comprehending the meaning of a peculiar road sign, seemed like impossible tasks. Who knew there were so many laws governing licenses, types of licenses, and restrictions to licenses? Fortunately, my desire to learn to drive was stronger than any intimidation incurred by this thick, rule-filled manual with print like hieroglyphics.
Slowly, as I read and highlighted the book, I realized I was absorbing the information faster than I thought I would. I saw that many of the explanations in the manual were actually detailed discussions of very basic driving skills, and I realized that I could definitely handle this material. The task of learning the rules of the road suddenly became less daunting than I originally thought, and as I mastered this material, I felt more and more prepared to take the permit test.
The marking period was coming to a close, and the date swiftly approached when I had to take the actual test. Since there are several versions of the permit test, I hoped that I would get the one that covered the rules I knew best. Fortunately, that happened. I submitted my test and passed. What a relief! This provided me with the legendary blue card that allowed me to drive for six hours with an instructor. I was on my way to getting my driver's permit and my independence.
The next step was to sign up to take driving lessons, and I chose Fallon's Driving School to do so. The Fallon instructor took me to the DMV where I quickly took my eye exam and then began my one-on-one driving lessons. The car was a Toyota RAV-4 with a brake on the instructor's side. Once she showed me all the controls in the car and how to operate them, we switched places. For the first time, I was behind the wheel, eager to finally drive, and on the road to becoming self-sufficient. I had envisioned this moment forever and knew I would never forget it.
Well, I do remember that moment, but it definitely wasn't the most exciting experience. I had to drive in a circle inside a parking lot in order to demonstrate that I could control the car. Though not very thrilling, I did realize how essential it was to master this skill. When I had to pull out of the parking lot to go on an actual road, it was a definitely more challenging. At first, it was nerve-wracking to attempt to adjust my speed so that I would not be going too fast or too slow. I worried about either getting honked at by impatient drivers, or feeling pressured to drive faster than I felt comfortable with. The whole experience was more exasperating than I imagined it would be. I had to concentrate and remain aware of what was going on at every moment.
Eventually, I began to feel more comfortable driving, and I considered that to be a good sign. I realized that the process of learning to drive, which would lead to my independence, involved many complicated steps that would occur over time. Still, I felt encouraged since my instructor told me that I did well.
During my second two-hour lesson, I felt even more confident. We did some highway driving, and I was impressed that I was now actually driving by some spots on Route 17 that I had been to previously, like Mt. Fuji Steakhouse and the Sheraton Mahwah Hotel. We also practiced navigating four-way stops and parallel parking. Knowing that I could handle the car in all these situations was inspiring. It is not that I did everything perfectly; my turns were a little narrow or wide, and it was also difficult to maintain an ideal and consistent speed. My instructor told me stories about how dangerous it is to drink and drive, and it was sometimes hard to focus on driving and still listen to her advice. I knew that she was totally correct when she said, "Don't drink and drive or you'll have an accident," but paying attention to her while I was trying to control the car was distracting and a bit stressful. Nevertheless, I figured it was good practice for one day when I am driving, someone is talking to me, and I have to manage how I concentrate.
That third and final lesson, which basically tied together all that I had learned from the instructor, resulted in my obtaining a driver's permit. That moment gave me a real sense of accomplishment. Not only had I passed this hurdle, but now I was really close to being able to drive on my own. Of course, I still needed a great deal of practice, but I was on my way. With my permit in hand, I realized that this small card was a symbol of becoming both an independent driver and an independent person.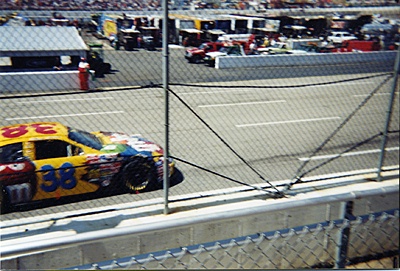 © Samantha R., Struthers, OH