Stuck in Folsom Lake
October 19, 2016
It was a normal hot day like others intill i got stuck in the middle of Folsom Lake.It was a really hot day so my sister wanted to go to the lake. When we were on our way to the lake there was a lot of traffic. When we arrived we couldn't find any parking nor where to put our towels and food. We walked to the lake after we found somewhere to put our towels and stuff. Like always, i was the first one to get in the water. I got in and in and it was really cold but i got used to it after awhile.

While we were in the water me my niece,brother,sister in law and two sisters we saw a lot of people with the family floaties. Me and my sister in law wanted to use one so we went to go ask how much it cost to rent every hour. After they told us how much we went to go tell my older sister and she gave us the money to go get it. When we went they were all being used so we had to wait like an hour. An hour passed and we went, we rented it for two hours but the guy gave use three. Once we payed for it the guy said we had to give him something valuable just incase we didn't take it back.i told my sister in law "just give him your phone" and she did. After she gave him her phone he gave us the yellow round floatie. When we took it back we kept dropping it because we were the only ones holding it and it was big for us, we had called my older sister to help us but she didn't. The first time we all went, we used our life jackets to be protective. We were on it for a while after we wet back to go eat. We ate some chicken salad i had made. Once we finished eating we waited a little, before we went back into the water because my sister needed to put more sunscreen, like always complaining about getting dark. When we went back on it my older sister and niece stayed because they didn't want to go again. When we left we didn't take our life jackets because we felt safe just by knowing how to swim.

Me and my sister in law were the ones to push us to the water we didn't really go to the deep part. We were just sitting and talking for a while till i looked around because i didn't see my older sister. I told my sister and i was scared because i didn't really know how to swim well in deep water without a life jacket. We were all panicking not knowing what to do so i decided to get off and try to swim use back, I couldn't though because i couldn't feel the ground and i kept getting green plants stuck on my feet. That was a fail for me so i got back on and my sister in law got off to try but she couldn't either. We didn't know what to do. Me and my sister just started yelling my sisters but it didn't work, till i told all of us to do it at the same time. We all yelled "CIndy!" a few times till she looked up and didn't see us, we all just started waving our hands and kept yelling till she finally saw us.

She kept telling us to come back but we couldn't so we kept telling her to come by waving our hands to our direction. She swam and just started to laugh because we were all scared. She dragged us back, when we were back i didn't do back on it because i was scared of it happening it again.

After that day i never went into the deep without a life jacket. I was too scared to do it again without a life jacket.Every time we go back to Folsom Lake i just stay where it's not deep and where i'm still able to see my family when i don't have a life jacket.Even though my sister tells me to go swim with her into the deep part i don't,so she just goes on her own.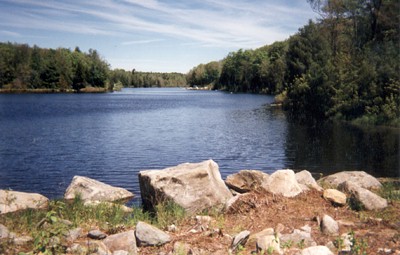 © Elizabeth A., Milford, CT