The Time I Smashed My Face
August 20, 2016
I own a dirt bike.
And, yes, I'm a girl.

It was my cousins, but he couldn't drive it in his small yard, so he brought it to my house and never came back to use it again. I guess it's still technically his, but I use it more often, and it lives in my shed.
Anyway, the first time my cousin rode it, he drove right into my garden.

Nice one, cuz.

So naturally, I was terrified at first. But my father was already standing there, waiting.

I mounted the bike, and shifted into first gear. The perfume of gasoline stained the air, the leather cushion was soft and weathered, and the sounding of the engine roaring echoed around the field. I held the handles, and squeezed gently.

I must say, I was a natural.

I rode around the field, feeling free and confident, dodging holes and rocks and ducking beneath trees. I loved it.

I had a crash free record for maybe two years.

But then . . .

It was a few days before I was about to perform a play. I had been privileged with writing it myself, and was really excited, as I was playing the angel. Looking back on it, I can't even remember the name of the play, much less my lines, but it was a nice day out, and I had been sitting inside all day. I slipped on the first shoes I could find (flip flops) and headed down the gravel driveway. After getting permission from my dad, I went in the shed and started up the bike. I shifted it into first gear and took off.

Right into a tree.

I smashed right into the trunk, then I fell, the dirt bike landing right on top of me. To make matters worse, I landed right next to a spider. I threw the bike off, groaning. My left cheek, having took the brunt of it, was burning. I went inside with a bloody cheek and bruised knees. Despite my protest, my mom made me sit on the couch and put ice on my cheek. My dad uttered the helpful comment that I looked like road kill.

A few days later, I still performed as the angel in my play, bloodied face and all.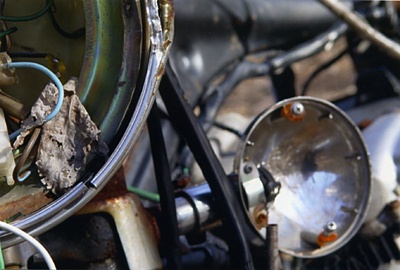 © Sara M., Milford, CT