What Did I Do?
June 15, 2016
RING! RING! RING! The third period bell had just rung. As I opened the door, the hallway was already filled with students scrambling and fighting their way through the other rushing students. I stepped into the hallway and made my way toward the stairs, where my friends Kevin, Joe, and Nathan waited.

"What's up Ethan, hey where did you get that hat?" Kevin asked

"I just bought it from coach Heffernan, it was $20, but it looks nice though." I replied

My all white hat with dark navy blue designs, and the varsity football Titan logo, really caught everyone's attention. I made my way out the door that led me outside, and there stood Mr. T, he's a short, skinny, loud old man. Through his dark sun glasses, I can tell he's looking at me.

"Hey young man, come over here. Do you know what school this is?" Mr. T asked

"Yeah, of course I do." I said very confused

"Well, you should know that hats aren't allowed at our school right." He said

"Oh yeah I know that, unless it's a Luther Burbank hat or beanie. The hat I'm wearing is the Varsity football hat, coach Heff has them." I replied

"Well guess what, Heff isn't here right now so take off the damn hat."

I just wanted to get to class, so I took off my hat and started my day.

"Damn, what was his problem? Did I say something to get him mad?" I thought to myself as I walked to my next class.

As I settled into 4th period, I completely forgot about the problem that just happened. The 4th period bell rung, and I as I walked toward the cafeteria, I put my hat back on and got into the cafeteria. There I saw the football team, and then they noticed my hat.

"Damn E, is that the hat coach Heff is selling?" my friend Moses asked.

"Yeah, it's $20 though. A little pricey for a hat, but it's still pretty cool though." I replied.

Then again, Mr. T made his way toward me, not taking his eyes off me.

"HEY! What the hell did I just say about that hat?" Mr. T yelled as he made his way toward me.

"You know what, I don't get it. I see all these other people throwing up gang signs, throwing trash on the floor, and wearing hats too, and you didn't say nothing to them." I retaliated with high energy

Mr. T then took me to the office, and tried to place me on the list of students who were gang affiliated. I've never been so confused in my life. The front office door opened, and there was coach Heff.

"Hey coach Heff." I said loud enough to catch his attention.

Coach Heff the turned towards me, "Hey, what's up my man, how you been?" Heff asked

"I'm ok, but this guy is putting me on the list of students who are affiliated with gangs for no reason. He keeps eye ballin' me and act hella weird. I wore the hat I bought from you and he said I can't wear it. I know I can wear it coach, it says it in the school rule book." I replied

Heff then talked to Mr. T, and talked about the situation. I stood waiting to hear what was Mr. T was going to do with me. Coach Heff then stood out the door, and excused me.

I don't know what my coach said, but ever since that day, Mr. T looks at me through those dark sun glasses everyday with those eyes scanning my every move. Well the good thing is that now I never get stopped by Mr. T again.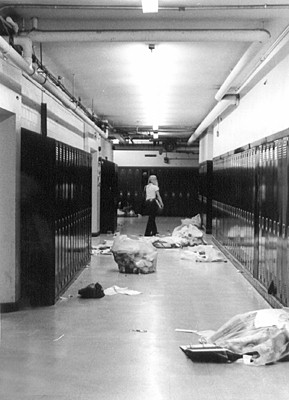 © Halsey S., Marblehead, MA