My Fantastic Day
March 2, 2016
Have you ever stolen something? Well unfortunately I have. Hey, my name is Taylor! I am 13 years old, and have stolen fruit. Now I know it may sound silly, but what happened afterwards really wasn't. My friend Audrey was there and helped me steal the fruit. So here we go.

Audrey came over to my house for the whole weekend, which we do once a month. That Saturday we decided to ride bikes down and around the driveway because we were so bored. I need to tell you a bit of background if this story is going to be any good. When my dad was a teenager he went to this house and was walking around at eleven at night with his friend. The neighbors woke up and threatened to shoot whoever was out there; he had his shotgun so my dad knew he wasn't kidding. My dad got away, but ever since that story I have been scared of that house. Anyway, we decided to ride our bikes down his driveway. He wasn't home so we thought it would be fine. We found some apple, pear, and Russian Pear trees. The fruit was so good that we just had to take some home. We stuffed our shirts full of these delicious fruits.

Once we got home we decided to go back with a basket. When we got to his house we parked our bikes and walked over to the trees and started picking more fruit. Once our basket was about half full, we heard and saw a silver truck coming up the driveway. The man that lived there had a silver truck! I screamed, "OH, CRAP!" and we ran through the woods to the driveway. What I hadn't realized is that we had just ran through thorns and had cuts all over our ankles. The man turned his truck around and came after us. We were so tired from sprinting that we couldn't run anymore! I was in shock and could barely breath. I decided that we needed to go into the empty creek with bushes and thorns in it. Of course, I dove right on in… literally, and Audrey, on the other hand, just jumped. I gouged my leg; but I was in so much shock that I didn't notice that my stomach, arms, ankles, neck, both legs, and chest were all bleeding. Just then the truck went by really slowly with the window down looking for us. He passed and went down our part of the driveway. I knew that he would ask my parents if we were out. I knew we had to move. My wrists were all cut up and I was crying. I kept telling Audrey that we were going to die! "This was the last day," I thought to myself. I will never see my friends again. Audrey was scared but not as much as I was. We decided to start our journey through the woods to our horse pasture, where we would be safe. As we were walking on this really high log through the middle of blackberry bushes we heard the truck coming back. I jumped face first into the thorns, and Audrey, once again just climbed down. We were bleeding all over. The cuts were stinging and burning. All of a sudden the truck stopped… the door opened… and we heard footsteps. We were scared to death and dead silent. All of a sudden the footsteps stopped. Someone yelled,"Girls….Girls!" I immediately recognized the voice… it was my grandpa. He also had a silver truck. I was so happy that it was him, but I was screaming at him for scaring us so badly. He said that he was just checking in on us and saw us take off; and that it was the fastest he had seen someone run in a long time.
Audrey and I walked back to the house to get the bikes, and ride back. When we got back we had to get off all of the blood and it hurt like crazy. We had so many slivers, and thorns stuck in us. Audrey and I had to drench our bodies in Tecnu (which gets rid of poison oak), and take a shower.
If in the long run you don't remember this story, just remember...DO NOT STEAL! Anything from a battery, to a flat screen tv.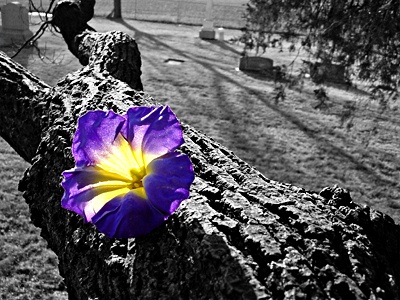 © Greg K., New Lenox, IL