Fear in Six Flags
November 13, 2015
When I was in the seventh grade I went on a field trip to six flags. On our way there I went with my teacher in her hear because all the busses were full. When we got there my friends and I met at the front gate. I was already with some of my friends because they also got a ride with our second period teacher so it was six of us in her van. Before going into the main gate we went to the Carl's Jr across six flags. I only ate a little because I didn't want to throw up of I got on a ride.
After me and my friends got on a few rides we decided to get in line for a ride called vertical two.
"We should get on this one it doesn't seem scary" I said.
We were in the line for like six minutes then we finally got on. On the ride was me and six other of my friends. In the front row sat Carlos and Javier, they were eight graders at the time. In the second row it was me and my friend Britney we were the only seventh grades.
"Oh god, it looks scary now" said Britney.
In the row behind us was Jennifer and Czarina. Once the ride started it was fast but like after thirty seconds into the ride it got stuck. When the ride was stuck I was facing down and im so sacred of heights I tried so hard not to open my eyes.
"I hope we get off soon" I said in fear.
At first we didn't know what was going on or for how long we were going to be sitting there. After five minutes a voice in the speaker said to remain calm and we would be off soon. After like teen minutes of being stuck we finally got off and the ride was shut down for the rest of the day.
Once we were off the ride me and my friends went to the Johnny Rocket sand they have there. I got a burger, fries and a milkshake. Then me and my friends enjoyed the rest of the till it was time to go home. When I got home I told my mom all about my day. I learned that getting on a roller-coaster rides can be very scary.
Although I got stuck on a ride and almost cried I had a fun day with some of my close friends.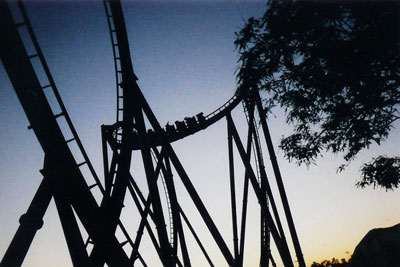 © Aaron S., Shelby, NC