Rest in Peace
MAG
November 20, 2015
When my mom asked if I wanted to stop by my grandmother's house, I knew it wasn't really a question. I could tell by her tone that I didn't have a choice. With my mom, I've learned it's simpler to do what she wants rather than to argue. I grabbed a book and jumped in the car.
I hadn't been to my grandmother's since she died last year. Hell, I hadn't been there in months, even when she was alive. Memories of her house are rarely good ones. Everything I do remember are ghosts now. They roam around in my brain, moaning and running their nails over my skull. If I don't think of them, they rest in peace.
My first ghost is the town of Lexington itself. It's so small you'd miss it if you blinked. If Lexington was a woman, she'd be small, shriveled, and missing several teeth.
I buried myself in a book for the entire ride to subdue my growing anxiety. When my mom pulled into the driveway, I jumped as if I had been hit. My grandmother's van was covered with a tarp, but except for that everything was the same. Same sloped yard, moldy trailer home, and same silence. Except for my cousin's dog, L-Roy, who was nowhere to be seen. I hesitantly got out of the car.
Growing up, my grandmother was the legal guardian of my cousin. He was a problem child who grew up in a terrible place before moving into my grandmother's. For as long as I could remember, the two of them were always at each other's throats. The only time there wasn't any yelling was when they were asleep.
Gradually, my siblings and I stopped wanting to go to her house. The amount of hate there made me tense every moment I was there. Plus, they weren't the cleanest people; I always came home covered in flea bites.
I loved my grandmother, don't get me wrong. I remember the hours spent sewing simple patterns, and her describing our family tree. When I was in preschool she visited on Grandparents Day. I recall perking up when she arrived, pointing and saying, "That's my Nana!" Almost every problem could be solved with a quick call to her. But in the end, the bad memories outweighed the good.
With my cousin out of the picture now and my aunt away in rehab, the house was padlocked. My mom handed me a set of keys and headed off to check the storage shed. A knot formed in my throat as I made my way up the ramp to the front door. Two years earlier there would have been easily 20 cats circling me. Each of them would have looked like hell from the rampant inbreeding and lice, but I would have pet them. Not one remained. They grew up on this property, but the moment the food stopped they were in the wind.
I tried all the keys my mom had given me, but none worked. I leaned on the porch rail and waited. Looking around the acre of land made the knot in my throat burn. I played Mother May I? in this yard. My grandmother sat under the shade of that tree when the weather was nice. I planted that tree as a sick-looking sapling; now it's taller than me.
Regret and guilt gnawed at my stomach. I couldn't even remember the last time I had been here. The ghosts that rested here had been stirred, their claws sinking into me. My mom was feeling them too. She came back to me with her eyes already red from tears.
"None of the keys worked," I said, handing her the ring.
She tried each in the lock, and one finally turned. She disappeared inside, but I hung back. The smell of the house wafted out to me, immersing me in memories of my grandmother.
Her in her room, curling her hair. Her calling out the answer to "Wheel of Fortune" with only two letters showing. Her dicing apples. Her sticking her tongue out when we made old lady jokes. Her bright white sneakers. Her doodles of flowers on any available scrap of paper. Her petting her hideous little dog, Harry.
I couldn't bring myself to enter. The ghosts were already moaning loud enough.
"Here," my mother huffed, handing me a potted plant, "take this to the car."
I was thankful for the excuse to get away. I ferried a few more plants to the car before my mom stepped out onto the porch. It took me a moment before I noticed the tiny black dots crawling up her jeans.
"Shoot!" she hissed under her breath, brushing the fleas off quickly. Mom had told me the place had become infested, but seeing it with my own eyes was horrifying. I stumbled away from her, already feeling tiny legs crawling on my own arms.
I grabbed the last remaining plants and rushed to the car. Once they were stowed away, I slammed the trunk and leaned against the car. Across the road, a large, rolling field stretched away from us. The trees lining the field were painted in hundreds of shades of red and gold.
It was beautiful. Even though the leaves were dying, their vivid colors promised a return of life. For the world behind me, there was never to be life again. The things that rested here would not return come spring. Though my mother may wish it different, the dead here must remain dead in order for us to live.
All the tears I had been holding in rushed out suddenly. Though I may hold myself high, I am nothing but a selfish little girl. While my grandmother struggled for life the day she died, I prayed for it to be over. I wanted it to happen so I could move on. In a way, before she died, she was already dead to me. For that, I should rot in hell.
When I heard my mom coming down the ramp, I wiped my eyes and put on a blank face. I didn't want to be comforted. She tossed her keys in the driver's seat and slammed the door shut. She walked stiffly past me and stopped at the end of the driveway. Resting her hands on her hips, she looked out over the field. The setting sun made the trees glow.
My mom's shoulders shook. A raspy, scraping sound came from her, and I looked away.
"Please …" she sobbed, "please, promise me if something should happen to me …" She was trembling, but I made no move to comfort her. She slowly sank to her knees in the gravel.
After a few moments, she continued. "If something should happen to me, don't let everyone fall apart. Don't let your family slip through the cracks. Don't …."
She leaned forward as if she was praying, and cried. I could barely look at her. I felt completely empty, like a walking corpse. The kind, comforting person I used to be had been scraped out long ago. I forced my legs to move until I was next to my mom. She snaked her arm around my calf and clung to me as if I was her lifeline. Maybe I was.
The dead are lucky, I thought bitterly. They don't have to watch the living struggle to pick up the pieces.
"It's not your fault," I said lamely.
Eventually, my mom's tears subsided, and she rose shakily to her feet. She sniffled, then began to pull at her shirt. Her breath came out in bursts as she scratched the back of her neck. "Help me," she gasped. "They're in my hair."
For a moment, I stared in confusion before it all came back to me. The fleas. I began picking them off my mom's skin as quickly as I could. Lord knows how long they had gone without a live host. They were almost invisible in the dying light.
"Are there any on you?" my mom croaked once I had removed as many as I could find.
"No," I lied, feeling one moving in the waistband of my pants. I picked it out when she turned toward the car.
I slid into the car, and we sat in silence. Twilight had moved in, bathing the world in periwinkle. I felt filthy, inside and out. My mom reached into the back seat to retrieve a windbreaker before yanking her shirt off. She changed quickly, whispering, "I should never have brought you here. I'm sorry."
Her apology echoed in my head as we pulled away. In that moment we made an unspoken agreement to never tell anyone about this day. The graveyard in my brain gained a new occupant. May it rest in peace.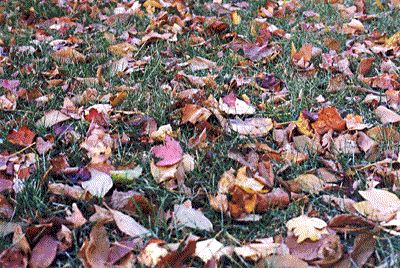 © Erica H., Wilmington, DE