The Real Me
May 18, 2015
Trrrrinnnnngggg!!!
Damn…That annoying sound of the bell. Annoying, but highly reassuring. I am that kind of nerdy teenager who can't live without going to school. I like to enjoy every moment there, whether it's the long, droning, never ending lecture our teachers give, the cheery chatter of my classmates, or the unification of my mates to fight with our sports teacher, if we miss even a single games period. And of course, coming to the best part of school, my two besties and my secret crush!( secret cause no one knows, and trust me when I say, I literally look at him like I'm gonna vaporise him with my eyes…yeah, keep it up, you really are gonna get him to like you this way…) And anyways, I won't get this wondrous time back again, so I might as well make the most of it, enjoy the " simpler pleasures of existence".( staring!) (Thanks, Augustus!)

Then again, you also realise your true potential in school. You learn to master you strengths more than ever, and conquer you weaknesses and fears. Well, it took one hell of a time for me to realise that. Let's see how…

It was Math class now, and my forehead was beaded with sweat as I reached stiffly, to pull my books out of my bag. I could see everyone around me talking excitedly about Math period being amazing and that they have been waiting for it all along. I can hear my friends discussing some totally out-of-the-world sums and answers and theorems and what not, and at that moment all I want to do is drown myself. Literally. (Hey, self –esteem. How ya Doin' down there?)

Now you're going to ask me if I am afraid of Math. Naah…'Course not. I'm Terrified.

The class stood up to wish my Math Teacher as she stepped in. I have to admit I do like her. She's been the most patient and considerate Math teacher ever, but the subject she taught, would never spare me. It made sure I would be humiliated to the core. I SWEAR I could see my textbook give me that evil you're-over glare at me every time I touched it!

"Good morning X C!" She would say, grinning at us with the usual mischievous twinkle in her eyes. I would smile at her nervously as her eyes would meet mine and then quickly look away to turn at my mates, trying to keep my confidence equal to theirs. But deep down, all I wanted to do is hide under my bench and hug my back. (Eh…yeah…)
Though, this wasn't the real problem. I was pretty okay at pretending like all life consists of is tumblr, pizza, ice cream and Tobias Eaton. But really, it's not…..even close….not even a little bit.

The Actual problem begun when she would start discussing the resumed chapter with the class. That one moment would ruin everything for me, knowing I would not be quick enough to answer or wouldn't know the answer at all, or would have to ask for help from my friends (NEVER!!)

Not being good enough at things, especially in which everyone else seems to have an expertise at, would make me depressed and shut me out from them. In that specific period of time, I would manage to feel like a fish out of water. All I can see is the entire class turning to an obscure blur, the letters and numbers getting mixed up and floating off the board and the noise around turning to a strange buzz. And I would swell up from inside feeling…melancholy? No, Left behind. No wait, I think…inferior. Or maybe, stupid? Ah…better. I would feel like a total failure. I guess these are the effects of not being good enough.

There were times when she would give the entire class a sum to do after ending a tiny section of the chapter, just to see how far we have understood. She would put up the sum on the board and would give us two minutes to find the answer. I then get filled with energy, all set and ready to be the one to do it correct, because I had done a similar sum at home, correctly (surprise!) And then this happens-

The actual sum would be something like- 2x+ 3y-8x…and so on. (This isn't really a sum. It's just an example to tell you what happens.)
What the sum would look like to me- +x32-yx8…
I would be like" Hey, I don't remember ever learning that…"
My friend would be like," You're kidding, right? We learnt it two minutes ago."
That would shut me up.
At home, I'd sit the whole day practicing hard. And what's more? Turns out, EVERY SINGE SUM IS CORRECT. But, never, would I be able to do it in class. Either I would once again be a slow slug, or its would just blur out…AGAIN! (Wow, THIS is life!)

The fact that I am unable to do it well would detach me from the rest of the peers for the moment. My peers' being better doesn't trouble me. The fact that it's like dyslexia for me isn't very heartening. I Swear, if I'm stressed, I can't even read the page number.

Though I am very thankful to my besties and my mother for their help and encouragement, and their patience towards my endlessly pointless questions! (Divya, Sreeja…I owe you.)

But I have always been independent in whatever I do and dislike unnecessary help from anyone. I never usually admit this, in case I hurt someone, but really, help isn't really my thing. I usually am the person offering to help. And getting helped isn't my thing. I don't take my parents help and ask my teacher only when I have no other choice. But hey, I am grateful for what I get!

But "letters blurring out" would sound like an excuse, even though it's not. And therefore, I keep it to myself. By now, I must sound like a complete loser. But here's the main plot. I'm Excellent in everything…EXCEPT Maths. It just lets me down. ALL…THE…TIME.

But lately, this has had a positive impact on me. Something unexpected. Instead of demoralizing me, it's created a hunger for victory in me. I can't let just one thing tear me down. I won't let it stop me.

And I also realised that…I'm different. I'm meant to do other things. I have talent and intellect in me; I mustn't underestimate my abilities due to one flaw. I'm different and I shouldn't feel bad about it. Math may not be on my side, but I have a bucket load of others in my grip; literature, languages, photography, theatre, music, film making and many others, and this is what keeps the fire in me alive. I'm meant for something else and I've learnt to be happy about it. I may be the odd one out, but this is where living your dreams comes in. Maybe this is what I am. Everyone is different. I can't be like them. Because this is what I strive for. I create my own destiny through awareness of my imperfections and proficiencies.
This is the Real Me.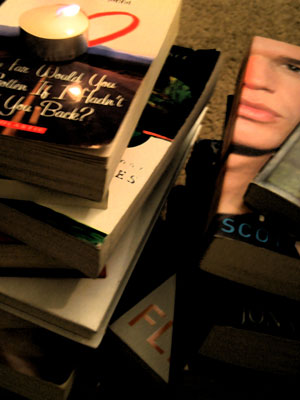 © Alexis R., Clarkdale, AZ