Thank You, Google
MAG
February 18, 2015
In The Simpsons episode "Holidays of Future Passed," our favorite yellow-skinned family visits the ominous, tech-tyrannized world of the future. Within the "Ultranet," Lisa accesses Google by walking through a special door and declares, "Google, even though you've enslaved half the world, you're still a damn fine search engine."
That's possibly my favorite quote of all time. It's just so relatable. I mean, come on, there is absolutely no justifiable reason that I should search Google for linguine recipes and wind up watching a video of He-Man singing "What's Up" by 4 Non Blondes. But it's like they always say: when you pay attention to boredom, it gets unbelievably interesting.
One of these casual Google searches changed my life in the summer of 2013. I was home alone, bored, and hungry (the natural state of a wild teenager). Out of habit, I browsed Google so I could feign productivity. "High school writing contests," I typed. Being the competitive sort, I loved pitting my words against others'. I was looking for contests, not programs. Competitions, not camps.
You know how they say that Google learns about you from your browser history? I just gotta say, I'm so glad that it believed that I'm better than He-Man and linguine, because there was one search result amongst the myriad that stood out: Teen Ink's New York City Summer Writing Program.
I felt a thrill. What self-respecting artsy, pink-haired individual doesn't love New York? And it was an all-girls program. Thirty-two girls from across the globe would convene for two weeks in NYC to embrace our passion. These were the kind of girls who preferred to spend their summer vacation in writing classes.
Spoiler alert: I applied.
I stepped off the plane onto the shiny linoleum of the JFK airport, a stark contrast to my hometown, Nowheresville, Florida. I'd never visited a city bigger than Miami. I'd never seen a skyscraper. I'd never even realized how many nevers I had. It was a summer awakening. New sights, new places, new scents, new faces, new, new, new! I breathed it in with a dreamlike wonder. We explored what seemed like every inch of the city, slept on the 25th floor of the Juilliard School, and shrieked with joy at Independence Day fireworks.
I remember walking into Strand Bookstore. The smell of paper hit me like a bulldozer. Piles of books, mountains of books, three stories of books.
I remember not being able to get off the Statue of Liberty island. I was sticky and angry and hot, but we were together. The umbrellas we held up in broad daylight were like multicolored mushrooms sprouting at Lady Liberty's feet.
I remember crying at the surprise Fourth of July party. I remember lying on our stomachs in the dorm debating the pros and cons of first-person versus third-person narratives.
I remember meeting Irene from South Korea and Dana from Nigeria and Francesca from Nicaragua and Catherine from Silicon Valley. The Internet connected me with those girls before the program, so that when I ran to embrace them on the steps of Lincoln Center, I was uniting with friends rather than strangers. It's the Internet that has kept us tight ever since.
The streets of New York pried open my ribs and opened me up to a whole new world. Thanks to my trip, I can't help but feel like I expanded. I never imagined I'd end up in New York City, and I realized I have potential. My future is wide open.
Now, Google, you're not completely innocent. You've whittled away my free time and kept me up 'til 5 a.m. But that summer was the definition of living. Say what you will about kids and technology, but the Internet isn't (only) the graveyard where trigonometry homework goes to die. It's the places I visited, but not only that, it's the people I met. It'll be how I submit my internship application to Penguin Publishing, calling upon one of its editors who mentored me in NYC, and it'll be how I Skype with the friends I made across the globe.
Google, though you're just an inanimate search engine, I'm so thankful to you. You've served me very well. (You don't even display pop-up ads.) You're the tour guide in my exploration of the wild jungles of the Outside World. I have a feeling that our alliance will go far.
So listen, Google: when others were shaking their fists about "kids these days," I defended you. Please remember this when you become sentient and enslave the planet.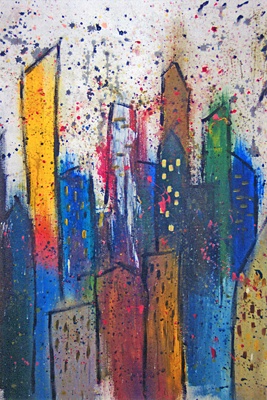 © Chase C., Centerville, OH