School Days
February 1, 2015
 An echo from the past, an angry cry questioning what was done in years past when all we thought of was ourselves. It was shameful, how we behaved, childish, but you see, we were children. Later on, we were that in between children and adults state, a state no one traverses gracefully. We fought over petty social prejudices, protected our own until our own became an outsider to be observed from afar. We were awful, all of us together, to each other and to others.

We were so close once, a beautiful circle of earnest seekers of friendship. Those sleepovers where we giggled all night long and talked about our romantic hopes and what we wanted to be when we grew up; too few and fading too quickly. We could have been strong together, for in a storm, more are better than one standing alone.

We had our pains, each of us from pasts different yet quite similar. As we grew up, we became aware of those pains but didn't know just how to sort them out or how to share them. We were ashamed of our hidden scars because we feared rejection and the thing was, we were rejected when they showed because we didn't understand them. We couldn't face the reality they brought and different was bad because we all wanted so desperately to be normal, though we never could.

Pictures haunt me now, little children happy and unknowing of the trials they're about to go through. Growing up has pains that leave hurt forever on, if they aren't tended and our cruelty amongst ourselves brought wounds quite deep. We were cruel, all of us, when we should have been more open, more kind, more present as our insides faded into despairing background.

I am not that girl who fought girly catfights, who left scars with words so cruel. I am not the girl who despised for reasons unknown and I'm not the girl whose bitterness wormed into her heart and ate away her dreams. I'm not the girl who hurt all of you, lost friends of childhood who now look back with stranger's eyes. I've grown up, in body and mind and things are so very different now. Yet I am responsible for that girl too, and of all the things I was ashamed of in the past, she is the only thing now.

It's understandable and yet almost unforgivable. It was a horrible journey each of us had to take and it would have been less painful if we had travelled together. I look back at that girl who was me, shake my head at her foolish cruelty and beg her to reconsider, to keep the peace above all else. I know losses of people who once knew me better than myself and the older I have become, the more a close friend is treasured. But my pleas fall on ears long passed and so here I am now, remembering the smiles and the tears.

So I say I am truly, terribly sorry. If only I had grown up faster, could have been there as I long to be now. I hurt for your hurts, present and past and though we cut the ties that bound us, I still remember. We face futures far apart but I hope that every now and then, you'll smile as I do as you remember those good times. And I hope you can forgive me, because I forgave you years ago.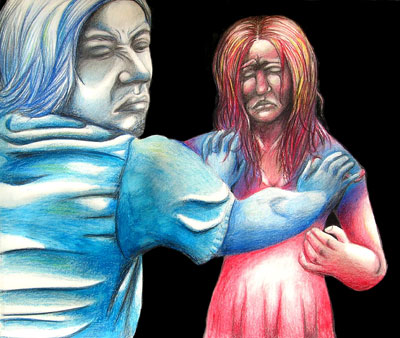 © Jessica P., Bethel Park, PA