I Do Believe in Faries
January 25, 2015
The steady bump, bump of my feet against the old theater chair in front of me earned annoyed looks from fellow theater goers in the near-by seats. Red velvet rubbed against my thighs as I took in the world that I loved and would eventually become a part of. On my right sat my Grandma, who was a fellow actress and loved the theatre very much (she's quite proud of her part as Doc in Snow White, mind you). On her right was my Grandpa, who was not a fellow actress and did not necessarily like theatre (though he did love his theatre loving granddaughter and that was enough for him). My feet slowed and the hum of chattering voices turned to "shhh's" and "hushes" as the light of the theater dimmed. The large red curtain lifted to reveal the Darling nursery as Michael's voice singsonged, "I won't go to bed to bed. I won't, I won't!"

Never-Never land has always been a part of my dreams. Tinker-bell has been my best friend since my first laugh. Peter Pan had been my hero since that first time I laid my eyes on him. Early in my adolescent years, I received what I believed to be an adequate education on Mr. Barry's masterpiece. The 1960 version of Peter Pan was on constant replay within my house. I had each phrase memorized, each sword fight choreographed, and each bell jingle of my fairy friend down pat. Now you must understand something about the 1960 version of Peter Pan, Peter Pan was in fact a girl. Peter Pan himself was not a girl per say, however he was played by a girl with stark blonde hair and a incredible soprano. By age five I had ditched the idea of becoming a doctor and announced very gravely to my grandma that when I grew up, I wanted to be Peter Pan. Thus, the trip to the theatre commenced.

I sat up a little straighter in my red velvet chair as I anticipated the near arrival of Peter Pan. My grandma and I shared a knowing look as the music swelled and in flew, shot, catapulted my hero Peter Pan. I immediately froze and let out a gasp of disgust and confusion. I gently nudged my grandma who leaned over and I whispered to her, "Are you sure that's Peter Pan?"

She chuckled and replied in an equally hushed voice, "Of, course! Why wouldn't it be?"
"Well… isn't it obvious?" came my incredulous reply, "That - that's a boy Grandma!"
"Yes."
"But - but Peter Pan is supposed to be a girl!"
"No, Peter Pan is supposed to be a boy."

"Oh Grandma! You know what I mean. Peter Pan is supposed to be a girl pretending to be a boy, but that is a boy pretending to be a boy." I explained my reasoning slowly as my Grandma seemed to have trouble identifying the differences between a boy and girl. Her only reply was a light chuckle, all the while turning her attention back to the play. I huffed and crossed my arms determined not to enjoy the production.

Two hours or some later I was standing and applauding with the rest of the audience. The play was magnificent, genius really. I only had one complaint that I desperately yearned to voice. Peter Pan was not played by a girl. The casting director had gone against nature. They had defied the rules of the Universe. Rule #1, Peter Pan should never, ever be played by a male (that was before I saw the 2003 Peter Pan movie with Jeremy Sumpter playing Peter Pan). It was with that mindset that I walked out into the meet and greet for the cast members. My chin held high I search for Peter Pan, marching over to him and announcing in a loud voice, "Despite your good performance, a women could have done better." Then I followed said statement with a picture and a hug to appease my Grandma. To this day I want to be Peter Pan in a play. And I still believe in fairies.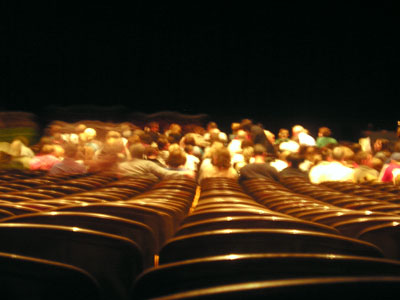 © Jessica P., Bethel Park, PA