How to Look Your Best on Prom Night (for Guys)
April 16, 2014
When glancing through the halls of any highschool, seeing the guys dressed all the way up is uncommon, but on prom night those same guys will be strutting onto the Northern Illinois Campus in tuxedos as if they were all the best man at a wedding. Everyone knows the effort that their female counterparts put into looking incredible on prom night, and that is a huge contribution to why they enjoy it so much. Looking good means feeling good, and feeling good means having a good time, which is after all what Prom is really about. So to make sure that you can make your night and your dates perfect is by looking your absolute best. By following a few simple steps it's easy to look like the stud that you are from head to toe.

Hair
Prom is a special occasion, and this occasion allows for you to do something new. Prom only comes once a year, so mixing up your every-day hair style can make you look even more handsome. The quiff hairstyle is one of the most popular of our generation and looks good on pretty much any hair type. If you check the list of sexiest men of 2013 according to Cosmo, more than half of those men sport quiffs. That is no coincidence. Even famous male icons in history like James Dead often wore the quiff hairstyle. A quiff is classified by the short sides and longer length on the top of the head, with the swooshing of the bangs parted on either side. To create the look you simply need a comb and lots of product. The best product to use is personal preference but either pomade, mousse or styling taffy are all considered to create the best flip.

Another hairstyle to consider trying for prom is the slicked back look, or even a flow if your hair is long enough. Slicking your hair back with gel creates a professional look, adding to your already dressed up appearance. The risk of slicking back your hair is that while some men look great with the hairstyle, others look ridiculous. It's a much harder look to pull off, but wearing it with confidence increases your chances of rocking it.

Picking a Tux
When picking a tuxedo, the most crucial aspect of looking good is the fit. Get professionally measured to make sure that you know your size. It's surprising the number of men who don't know their proper fit even going into adulthood. If your tux is too big you'll look like a toddler playing dress up with his father's work clothes. If your tux is too small, you'll be uncomfortable all night. Finding the perfect balance can secure your look.

Once you know your measurements, the design of the tux is the next topic at hand. Luckily, tuxedo styles are much easier to understand than dress styles. There are less styles to ponder before making your decision of what will make you look the best. When finding tuxedo models, its important to know the difference in styles of jackets; there is the traditional three button, two button, one button and double breasted tuxedo jacket. Each allows their own advantages, and personal preference is really what deciding which model comes down to.

After you've decided which model to wear, the next order of business is color. The majority of the students you see will be wearing either a traditional black tuxedo, or the more modern all white style. What you will likely not see is a silver, navy blue or charcoal suit. Using a different colors of jackets can make your date's dress pop and can make the two of you look incredible. For example, a yellow dress looks incredible with a steel colored suit; the colors accent each other and will catch the attention of your peers.

What goes under your jacket is just as important if not more important than the coat itself. Chances are when you're in a hot gym you'll want to shed that extra layer. The color of the shirt is up to personal preference, but a simple white or black is suggested. The color of the vest should always match your date's dress, and your tie should do the same.

The best place to get a tuxedo for prom is Mens Wearhouse. Your price range will determine what designer to choose but going with Vera Wang or Calvin Klein is always a good choice.

Accessories

Accessories are the exclamation point on an outfit; they distinguish you from the rest of the crowd. The latest style trend is that of bold accents and accessories, and including that into your prom night outfit can make your attire stand out. A handkerchief provides another splash of color, and using this opportunity to include a bold print could really make an outfit. If you go with a bold handkerchief, your only option is matching that print on your tie. Bow ties look very nice with tuxedos and are the obvious choice over the standard neck tie when going to prom.

Jewelry is an important aspect of looking your best, but it's very easy to go overboard. While pieces of clothing are the opportunity to show off, watches and cufflinks should be subtle. A classy silver or gold watch is acceptable, but a large face or anything platinum on it immediately makes it tacky. In fact, leave anything platinum at home. Cufflinks are a subtle way of including a quick shine or burst of color into your outfit. They can be any color, but the most common is a silver; again this will depend on your jacket color.

Foot wear
The majority of students will wear black dress shoes with black pants. That isn't a bad option at all, but depending on your choice of tuxedo your shoe choice may be essential. Wingtips are the most recent comeback in mens fashion, and Oxfords are always acceptable in formal fashion.

The best place to purchase shoes would be DSW or Nordstrom. They offer a mix of designers from Cole Haan to Dolce&Gabbana.

Once you feel like you are done preparing for Prom night, google a picture of Chuck Bass. If what you have on looks like something he'd wear, go with it.

By completing all of these steps perfectly you will reaffirm your dates decision every time she looks at you and make other girls reconsider their choice. By doing this, you will Establish your position in the dance as the most dapper guy there.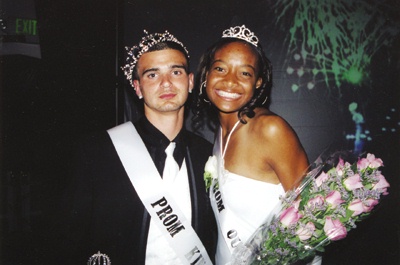 © Melinda M. Phoenix, AZ