Jam Session
March 26, 2014
It felt so right. I was in a basement with people I had known for little over an hour, and some of them were looking at me. I'm pretty sure the really tall guy got me a sweet tea from McDonalds. Anyways, they were staring at me to do something, so I picked up my Hummingbird, and started playing "Undone" by Weezer. I was so nervous, I skipped the first verse and went straight into the second one. My guitar playing was subpar, but I kept strumming. Some of them were nodding with approval of the song choice. I was hitting the higher notes just barely, and the strain in my neck was kind of making me really self conscious. I finished the song, and they were saying, "Sounds good". Then, after listening to a guy on a keyboard, the lights seemed to dim as they plugged in a microphone. The 'tea' guy started playing and the other guitarist joined in. The rest of them joined in succession, and it became apparent, they knew what they were doing. I listened, and with a nod from my friend playing bass, I started improving lyrics to a song never heard before. I was so timid coming up to the mic, but my mind had already pieced together a chorus, and a makeshift verse. The lights seemed nearly off as we all really got into it. I felt so important, but so wet behind the ears in the way that, I took music being made, and kind of contain it. I felt really alive. Time literally stopped, and I felt like I was looking at the eye of a storm, except I knew I was safe.

On the ride home, my friend was driving me in his van, and we were talking about anime, music, and other things. He said "You know the others are going to be talking about you right?" I said, "I know, that's cool with me."

We pulled up to my house, and I said,
"Thanks for letting me jam."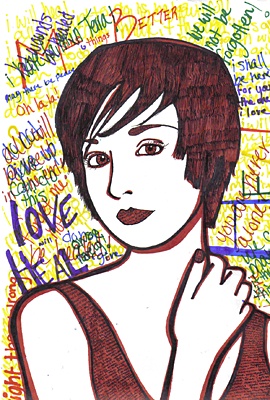 © Sara D., Aiken, SC