The Creature I Knew
January 23, 2014
I sit in the dressing room staring at myself in the mirror. Around me is a beautiful whirl of tulle and purple fabric. My face has mascara and eyeliner running down my cheeks. My tears have dried now. I don't know why.
It all started this morning when my mom woke me up with pancakes and told me that were going to look for prom dresses. I was ecstatic. I wanted more than anything to look beautiful at prom. I wanted to look like all of the smaller girls with narrow waists and perfectly painted faces and flawless bouncy curls.
When we arrived at the dress shop, I had a smile planted on my face. We walked in and directly went to the Plus Size section. We looked and looked, trying on dress after dress, but couldn't find one that fit me the right way.
My mom suggested that we leave and try another store, but I was adamant. So while she went to another shop around the corner, I continued looking. And still, I could not find a dress. Right as I was about to give up, I saw it—a purple dress with a swoop V-neck and rhinestones on the left waist, size 22. It was perfect.
I quickly grabbed it and ran into a dressing room. I hurriedly took off my clothes and slipped the dress on over my head, not wanting to feel self-conscious about my hips. I called in a worker and asked her to zip me up. As she looked at me, I felt her eyes judging me. She quickly tried to zip me up, but as fast as she started, she stopped.
"I'm sorry, but it won't zip."
I looked at her in the mirror. "What do you mean?"
"It doesn't fit. Now if you wouldn't mind, could you please take off the dress and put it back where you got it?" The lady turned and walked out of the room.
I sat on the ground, the dress spilling out around me, unaware that there were tears streaming down my face. I looked at myself. There was this beautiful creation around me, meant to give a girl her dream night, but there in the middle was this awful creature.
The creature long dishwater colored hair and green eyes. It had lumps all over it's body, people would think that it was hideous; a monstrosity even.
But I knew that she wasn't a monstrosity. She was misunderstood. Maybe she was lonely or sad. Maybe she just needed a friend. Maybe she just needed someone to show that they cared.
So I looked at that creature in the mirror, and I knew her.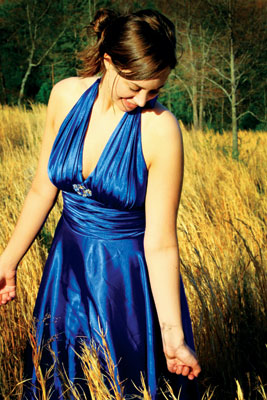 © Michelle B., Blairsville, GA