Celebrity Encounter
January 20, 2014
For a long time, I had dreamed of meeting somebody famous. I knew people who had met all kinds of celebrities: actors, pop stars, even presidents and world leaders. I had never had such a chance before. That is, not until last spring break.

My mom and dad had decided that for Spring Break 2013, we would go to Istanbul, Turkey. It would be awesome to check out the culture in Istanbul, they had told my brother, Sebastian, and I. I knew absolutely nothing about Turkey, though. I knew there was the big mosque/museum/church known as the Hagia Sophia, but when it came to knowledge of Istanbul, I was about as dumb as a rock. But I decided to just roll with it and try to enjoy it while I could. In the process of my mom and dad planning the whole trip, my mom announced that one of her friends had told her something quite exciting. Eddie Izzard, a famous British comedian that my family absolutely loves to watch in his different comedy routines, was going to be performing a show in Istanbul the exact same time as we were planning to go! We were so excited! My dad immediately looked around the internet for tickets to his show, but unfortunately did not find any. We didn't dwell on this fact too much and continued planning this trip.

On our first day in Istanbul, my family and the couple that was travelling with use decided our first destination was to be the Spice Bazaar. It was pretty chilly in Istanbul, so we were all wearing jackets and pants, rubbing our hands together for warmth. We went across this long bridge, our apartment building on one side and the Bazaar on the other side. It was really neat seeing all the fishermen standing on the edge of the bridge with their fishing poles hanging into the water searching for the day's catch. When we got across the bridge, it instantly became much more crowded. There were all kinds of people walking, running, or bicycling in all different directions. The Spice Bazaar's one big entrance loomed over us, an enormous gateway leading into the riches of the market. I could already smell all the different kinds of spices: cumin, paprika, cinnamon, and all other kinds. It was a familiar scent; my mom always cooked with all kinds of different spices. Sure enough, when we walk into the Spice Bazaar we find mountains of spices and herbs and trinkets towering around us, guarded by store owners anxious to get customers.

As we were walking around, my family and my mom and dad's friends noticed that it was kind of hard to keep together. We decided to separate, the couple walking a little farther ahead. As soon as we separated, my dad tapped my mom on the shoulder. "Honey," he said in a quiet voice, "there he is." He points to the other side of the path that led around the Bazaar. Following his finger, I see with my own eyes Eddie Izzard. He was standing there and doing nothing, as if he had been waiting for us this whole time. I knew it was him, because he was wearing high heels and nail polish (his main idea in his comedy routines is that he is an 'executive transvestite'). We push our way across the pathway; we were salmons going down a river while all the other salmon were going up. "Mr. Izzard," my dad says as he touches Eddie Izzard's arm, "my family and I are huge fans of your comedy. Do you mind if we get a picture with you?" to which Eddie Izzard replied, "…only if I can hold the camera." And so we totally got a 'selfy' picture with Eddie Izzard! It was absolutely amazing! My parents then had a small chat with him, where we were from, where we lived, how much we loved his skits, why he was performing in Istanbul. We then left, and I was stunned in realizing that I had met a celebrity.

While meeting Eddie Izzard was the highlight of my trip, I did enjoy the rest of Istanbul. But that moment of meeting Eddie Izzard will remain a fond memory to me. I realized then that your wildest dreams really can come true; all you have to do is wait.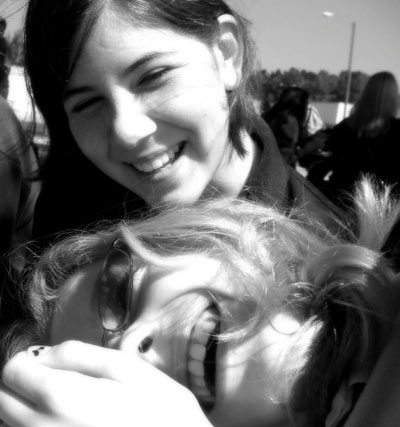 © Nita T., Wendell, NC