Daisy Love
January 2, 2014
When my great-grandmother passed away my aunts, mom, and grandma all decided to get a tattoo in her honor. With her nickname being daisy it wasn't too hard to figure out what they wanted to get. With that tattoo artist picked out they each sat in the chair and had it done. When they were finished it was the best thing ever. A band of purple daisies were banded together around their ankles forever and ever. It will forever stand as a memory to the one daisy in life they have lost, yet will never forget.

As a young six year old, they were the coolest thing in the world. My great-grandmother was my best friend in the whole world. She was my role model in life and has been dearly missed every moment since then. So as the hardheaded six year old that is was, I declared that I would be getting my band of daisies on my eighteenth birthday.

Recently, I turned eighteen. After eleven years of waiting for my daisy tattoo I finally got it; but it wasn't that band of purple daisies that my aunts, mom, and grandmother all wear as a memorial. Mine ended up not even being a band of daisies. I got one large daisy on my right hip.

Although I love the tattoo my family members got, mine is personalized to the love my great-grandmother and I had shared. Instead of purple it is simply black and white because she was so old-fashioned and I am too. But the center is this bright yellow for the new hope in life as I move on and carry her with me as I go.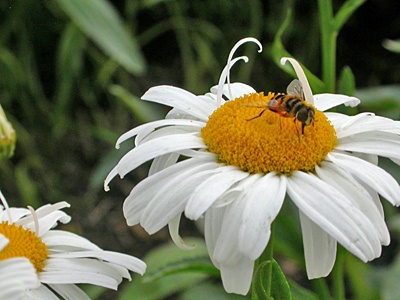 © Erica D., Dresden, OH