Cherished Memories with My Grandpa
December 18, 2013
In seventh grade, Mr. Williamson gave us an assignment to draw our role model. I chose my grandpa because he is a fighter. He still has the framed picture I drew of him hanging in his house.

My grandpa has been fighting since the day he was born. He was born with moebius syndrome, which is a really rare disease and caused his mouth to be disfigured. As he grew up, he was often teased, but that did not stop him from anything.

Growing up he loved to play baseball, and he even tried out for a college team. He became a college professor at Ohio State University and taught social work. He also loves and knows a lot about history. When I was younger I listened and sat fascinated by everything that he said, but now that I have taken civics and world history I know what he is talking about. When I was in world history we talked a lot about the Egyptians.

My grandpa also played the piano; it was his favorite thing to do. When he played, he was in a musical shrine. After developing arthritis he was unable to play on an actual piano, so he moved to a keyboard with soft keys for him to play. I got to keep his original piano which is now in our house. It sounded so beautiful and inspiring to see him. He is the reason that I play piano now. When I was a little girl, he showed me little verses of songs to play while he played a bigger part. Soon I started taking lessons and learning to read music. One Christmas he gave my one of his older keyboards, and it made me the happiest little girl to have something from my grandpa. Up until recently we always played duets together on Christmas songs, like "Twelve Days of Christmas," "Jingle Bells," and "Silent Night." I remember when I was so excited to go to my grandpa's and show him what new song I had learned and give him the music so he could make up something that he could play along with me on a lower key. It made me so happy and him, too.

Now, because he is so sick his voice is not strong, he can only talk so much before it starts to hurt him. As soon as I get on the phone with him, though, he can't stop talking! I usually offer to let him go because his voice is weak and he needs to rest it as much as he can, but he always wants to talk a little longer. Even my grandma says that he lights up when he's on the phone with me. We talk about history, of all things, which he knows a lot about. There has always been a special connection between him and me, but our bond has definitely grown stronger since I have became older.

It's been hard not being able to see him a lot with us living eight hours away. We haven't been able to play the piano together in at least a year because he has been too weak. I am going to miss being able to play with him and talk about history together. I know he will always be with me and watching over me, though. He is a good soul, and I am so lucky to be able to call him my grandpa and to have known him as long as I have.

As that picture still hangs today, I will never forget his reaction when I gave it to him. He started to tear up and his face lit up so much. I had never seen him so full of joy. One of the first things he said was "You drew my mouth just right." He was glad that I did not make him up to be something that he was not. Most kids at the age of twelve, when I had drawn the picture, would have drawn an upright smile, but I did not. I knew my grandpa was the way he was, and I did not see anything different.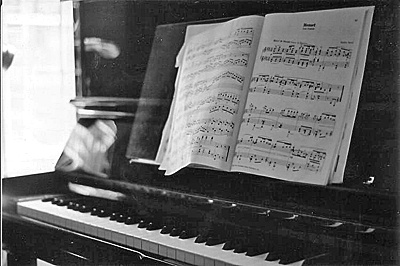 © Amy C., Portland , ME