Storms of Our Tomorrow and Yesterday
September 24, 2013
I find I am plagued with a deep seeded feeling of realizing the unknown. I feel I am so often overloaded with the extremities of having too much information and too little at the same time. Carelessly, I fill my time with seemingly meaningless tasks in the greater scale of things. Buried under the abundance, I struggle to find the surface, to find what is truly meaningful.

The world, so big with opportunities shadowed by constant danger pleas to be daunting to a small character such as myself. I think I am a tiny pawn in the game that we call life. I openly wonder, "Am I the only one who is afraid by open windows? Am I the only one who seems to struggle to choose which one to close? Am I destined to be but a stepping stone in which others find their happiness and I am left alone?" In return, my peers always laugh and say, "Raya, don't be so ridiculous. You're being too hard on yourself, we're just kids!"

We're just kids. How I wish I was just a kid. I so desire to be carefree and foolish like a child. I so want my biggest issue in life to be to choose what cereal to eat in the morning or whether to play kickball or tag at recess. Yet, I constantly feel burdened by the lurking feeling of adulthood peeking from around the corner. As if I was being watched by some unfamiliar force, my youthful skips on my path had gradually morphed into repetitive, persistent beating footsteps of a fully grown, corporate suit.

A peculiar combination of confusion and anxiety swirl in my head, hitting every piece of me like the beautifully tragic notes of an orchestra. I am overwhelmed by a tightly knotted spider web of fear which clinches my chest with the strength of a hundred beasts. While pins and needles seem to prickle down my arms and into my fingertips, my heart sinks into my stomach from an unbeknown reason. My body is held together by only threads.

One day, the world I had thought was so big with opportunities shadowed by constant danger, was shattered into a million pieces with just a fleeting glance. Something so complex and intricate fell into the shallow pools of simplicity. While I struggle with this unknown source of my terror, my thoughts were frozen by a mere gaze and in that gaze I found hope.

The spin of anxiety and confusion in my head slows into a dull whir. The tangled vines of fright that held me so tight in its deathly grasp, slips into a distant tug. In that simple glance from a somewhat familiar, yet unlikely friend, I discovered an unmeasurable grip unto what I will never truly understand nor would I want to. Such a basic, unheard of concept, only this youthful and wise being could help me uncover. I begin to feel my heart lighten, letting my plethora of worries go into the limitless blue sky. The soulful set of chocolate eyes poured a realization that I would have never received even from a thousand words. A simple truth, a simple happiness only a child could find and only an adult could appreciate. A thought that in our mad, unforgiving world, lurking with the forever unknown, there is a calm so strong, so powerful, that the storms of our tomorrow and yesterday will cease.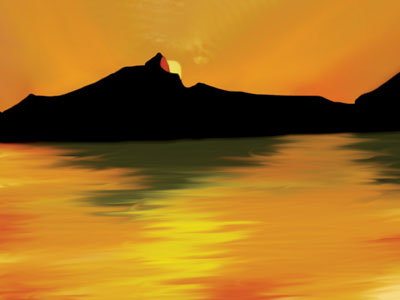 © Rachel M., Camarillo, CA