Drowning in Failure
August 9, 2013
We all take risks, it is part of being human. Me? I do not like taking risk. They are too...risky. In my first year high school, I played it safe and kept myself in check. But in my sophomore year, I have suddenly become a daredevil. In my sophomore year I...joined the swim team. Now that does not sound like a risk, does it? But imagine joining the swim team after just a few measly swim lessons. That is definitely a risk. I was literally risking my life but I wanted to join the team so bad that before I knew it I was on the diving block getting ready to start my tryout. In order to join the team I had to successfully swim a 50M, which is going from one end to the pool to the other and back. The coach also said if you can't do a 50M, at least do a 25M. In my head it did not seem much of a challenge. So I jumped in (more like belly flopped since I did not know how to dive) and started swimming like my life depended on it.

After about a meter or so my arms started getting tired. Then my legs. Soon my entire body gave up on me and I could not get enough air. I started to drown and I thought: This is it. Well, it was not that dramatic. There was a wall beside me that I held onto as soon as I started drowning. Then while I waited for the Captain/lifeguard to come to my rescue. As she swam me back to safety, I looked at how far I swam. I did not even make it to the other end! I barely swam 10M. Embarrassed and upset I watched the other kids successfully swam their 50Ms. I watched as the coach congratulated them on making the team. I was about to leave and go home. But I stopped myself. I truly wanted to be a part of this team. So I walked up to the coach and asked him, "So coach, did I make the team?" He looked at me for what felt like an eternity. Then he talked to the assistant coach. He finally told me that I made the team. I listened in disbelief as he told me that I had potential and just needed some work.

Now, years later, I can swim a 200M without anyone having to save me. Now whenever I want something I just go for it no matter the risk. I learned that if you work hard and never give up someone will see your potential and give you a chance. The risk I took that day enabled me to take many more risks that bettered my life. This risk impacted my life in the best way possible. It taught me patience, perseverance, and sportsmanship. It really is true what people say about hard work: It builds character and in my case, a pair of fins.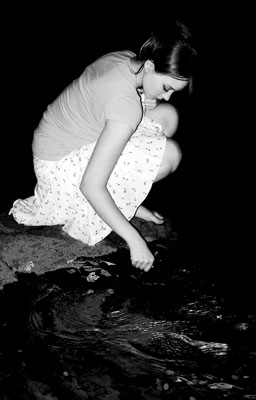 © Michelle B., Blairsville, GA