A Friend is a World Within
April 10, 2013
American Sign Language is my passion, what I live for and love. I expanded my life to a world of people from an entirely diverse culture from me, deaf culture. I made friends who will forevermore be in my life. Friendship is when two strangers discover similarities and differences within each other. There is a connection amongst them that only they can appreciate and understand. Having a friend who grew up with a different life style than from us is something everyone should have. It bursts the growing bubble of stereotypes we all form about people who come from different backgrounds. Our knowledge is broadened, and we become so much more aware of the changes taking place outside of our world. Before I began learning, I had no idea that there were so many people in the world who are living a totally different lifestyle than me. They grew up using a different language, feeling different, and living a life they were born to live. I traveled into a new world, which led me on a new path; a path that has led me to travel and explore so many places I didn't know existed.

River tubing in Jamaica, biking through Key West, and even hiking through the streets of San Francisco are the most notable experiences I have had in my exuberant travels. Then again, there is so much more out there I have yet to see and discover, so many people I have yet to bond with. Some people don't grasp the idea that we are not alone in this world. We are encircled by so many more philosophies, civilizations, faiths, and languages than we will ever know. The U.S seems to give off the impression that we are diverse enough, but so many other places haven't been discovered.

"Each friend represents a world in us, a world not born until they arrive, and it is only by this meeting that a new world is born."
-Anais Nin

We all have an unborn world in us. We are unable to release it until two people meet and become an integrated pair of friends. These new friends form a new world within themselves, one that only comes alive when they are together. I believe that this is true with every friendship, but a friend from around the world begins a bond so strong it can break through barriers.

Friends can be made anywhere. Distance doesn't matter when it comes to a true friendship, even if they are light-years away. Where they're from and what they look like is worthless, it's what's in their heart that really counts. Opening up our lives to a friend from another country is an astounding opportunity. Cherish every friendship, especially the ones that lead us to another phase in our lives. International friendships are something to hold onto. It's like finding a pot of gold at the end of a rainbow, and we all know those don't come along very often.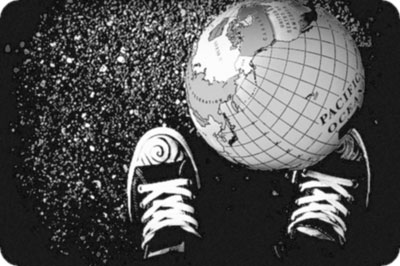 © Kailey E., Crownsville, MD