My First Time at the Movies
January 10, 2013
Have you ever been to a movie theater? I'm sure many teens out there have. Until October, I had never been to a movie theater.

Before I had ever been to the movies, I never really wondered much about what it would be like. The movies were for me "out of sight, out of mind." At that time, I was perfectly content with DVD's, video tapes and Hulu for access to movies.

However, I must admit I have from time to time badgered my parents about going to the movies. But at the time, their only answer was "the theater is a bad place where bad things happen." For a long time, I learned to accept this. It wasn't until my sister's friends invited us to go to the movies that my parents finally agreed to allow us the privilege of going to the movie theater.

When I first found out I would finally be able to fulfill my dream of going to the movies, I was absolutely thrilled. Then I found out that the first movie I would ever see in a movie theater would be Paranormal Activity 4, and I became even more ecstatic.

For the next few days before my trip to the movies I pondered what it would be like to see a movie on a huge screen. Never before had I been to a movie theater, so I found myself asking as many questions as could come up with to people who had been them. Then I did the nerdy thing to do and researched movie theaters. Did you know that the first movie theater was an empty retail outlet in New Orleans?
Thankfully, movie theaters today have new 21st Century technology. This most likely contributed to my wonderful experience at the movie theater. On my first trip I was three things: nervous, excited and late.

Those all contributed to my anxiety as I walked into the small, black and bright room toward the end of the hall at the Regal Theater in Brooklyn Center. The film itself only tripled my fear. If there is one thing I would advise someone who intends to go the movies for the first time, it would be don't watch a scary movie.

It is not fun to have ghosts, ghouls and demons popping out at you from a gigantic screen. However, had I prepped myself with some mellow comedies -- and maybe a few spy movies -- I probably would have been better off. But for now I have made a pact with myself not to see a scary movie in theaters for maybe the next ten movies or so.

Some of the negative things I must admit about the movie theater is its long, unnecessary previews and the overpriced food. If I watched a movie at home, I would never have to watch fifteen minutes of previews and trailers, and never would I have spent $10 on a bag of popcorn.
Nevertheless, one cannot deny the wonderful quality of the screen, sound and seating at the movie theater. Those were some of the things that probably make the whole trip worth it. This is why I advise those of you out there who have never been to movie theaters to go as soon as possible, and bring a group of friends along with you.

It is a wonderful experience to have in life, and not going would be missing out on something great.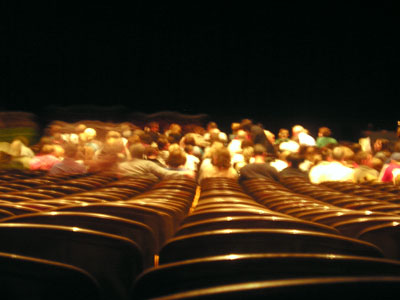 © Jessica P., Bethel Park, PA