A Shattered Staten Island
December 7, 2012
"It's simple," the man said, easily scaling over the pile of boats and debris that blocked the street. "You just step on this boat, over that jet ski, and then over the banister right there and onto the steps."

We hesitated, standing on the sidewalk, trying to decide if there was an easier way to get a better view of the harbor without attempting the obstacle course.

"It's really something to see," he added, jumping off the final boat, and giving us a grim smile before heading down the street, exiting the marina.

This was Staten Island, curious and inquisitive, even after record breaking storms. Hurricane Sandy had caused billions of dollars in damage, but some innate desire to see just how bad the damage was had driven us from our homes, and plopped us onto a street a block from the yacht club.

I stood there with my best friend and her parents, looking at the barricade, trying to comprehend how the boats had been plucked from the water and managed to land in the middle of a street, right between where two houses had stood.

It was an unspoken decision to venture over the pile of rudders and sails. The sky looked ominous, but the clouds had changed from a sinister black color to more of a light gray sheet, as if protecting the island from sunlight, but also from more rain.

Slowly and without agility, we made our way over the boats, stepping on a pink jet ski and a crushed sailboat with the name La Bella Vita ironically inscribed on its side in swirly cursive. We swung our legs over the banister and onto someone's front porch, conscious of our intrusion, but also knowing the circumstances warranted the temporary trespassing.

The view of Mansion Avenue, scattered with boats and people, soon captured our attention, clearing our minds instantly of everything other than a profound shock, and a deep feeling of awe.

The area was like a crime scene that hadn't been secured properly, like a crime had been committed, but police had not yet arrived with the yellow caution tape. People milled about with a foreign solemnity, as if they were extras on the set of an apocalyptic movie who couldn't believe something this catastrophe could be imagined.

Except this wasn't a move set. This was real life.

My friend's mother pointed at a restaurant, now a pile of broken wood, with a large speedboat protruding from the main entrance, where she had thrown a baby shower for her sister nearly twenty years ago. It was as if the building had died, crushing tables and chairs, but preserving the memories.

We all looked towards the water, trying to piece together how the boats could have been thrown from the yacht club, nearly 50 yards away. The reporters had spoken of a record breaking storm surge on the radio this morning, but in our neighborhood, the only losses had been electricity and tree branches. The idea that the ocean, now only a mass of blue waves far off in the distance, had attacked with enough power to undock ships and carry them this far was mind-blowing.

Left behind were puddles of water, thin layers of sand, and garbage that had come from both the ocean and the spectators. We walked carefully, stepping over power lines that now lay crumbled on the ground, and avoiding piles of oil that had leaked out from the boats' tanks. People murmured about the dangers of being so close to the wires and the oil, cautiously eyeing the boats that could fall onto an observer at any moment. But no one left. We all stayed, mesmerized by the destruction, like patrons in an art museum observing a masterpiece.

There was a twisted beauty in the scene of destruction, so much like a war zone, but also so much like a testament of nature to its enduring powers. We could delude ourselves with ideas that we had tamed the elements, but in reality, our radars and weather balloons had left us defenseless to the powers of a high tide and a full moon. We would never be able to conquer our environment, but we also would never let our environment hinder our progress. In the distance, we saw a crane, trying to detach a boat from a fence, and in that crane, we saw hope. We would rebuild from this storm, and we would prepare for the next. Along the way, nature may try to test us, but it will never extinguish our spirit, or our desires to protect our home.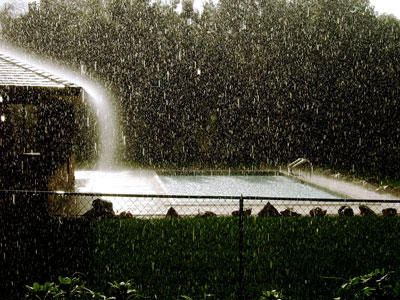 © Chelsea C., Auburndale, FL