Beautiful Inside and Out...... Yeah Right
November 11, 2012
This past Easter was the most memorable Easter I've ever had. It all started the day before Easter when my parents and I were on our way back from a LTC convention (Leadership Training for Christ) in Rogers, Arkansas. My church participates in this every year. It's where a lot of churches get together and performs and participates in certain things such as drama, puppets, art, song leading, preaching, etc. This year I participated in drama, puppets, and art.

Anyway, here I was sitting in our Honda van snacking on Twizzlers watching the remake of Footloose when I suddenly felt a pain in my upper abdomen. Oh crap, I thought, I can't be sick. I just can't be. I tried to explore other possibilities, when I noticed my package of Twizzlers lying next to me. I let out a sigh of relief. Maybe I'm just easting too many Twizzlers. Yeah, that's it. I then cautiously put away the package of Twizzlers so I wouldn't be tempted. I sat back and continued to watch Footloose.

The pain soon subsided and I was able to enjoy most of my Easter the next day. In the morning I was ok. I went to church and wore my cute, new Easter dress. Then at my grandma's house, where we go every year to get together with my cousins and hunt for Easter eggs, the pain returned. It was the same type of pain as yesterday and it was once again in my upper abdomen. It wasn't too unbearable, but it was quite distracting and annoying. I didn't want anyone to make a fuss if I told them of my aching stomach, so I did my best to not show it.

By the time we went to church in the evening to get the results of the LTC events, the pain got worse. All I wanted was to get this over with and leave. I ended up getting gold in everything, even my drawing that I did at the last minute.

When I got home, I rushed to my room and plugged in my heating pad and placed it on my stomach. Shortly after, my dad dropped in and told to take a shower. I did so and without drying my hair went back to my bed and put my heating pad back on.

The pain was getting worse. For all you girls that get cramps that you just can't stand, well, times that by like 1,000. You'd think a heating pad would help, but it didn't whatsoever. I found myself twisting and turning, moaning and groaning. My dad walked in again and asked if I wanted to be checked out. I refused. I continued to suffer, feeling helpless. I gave up and called my dad and said I want to be checked out.

It was around 10:30pm when we entered the Cox North Emergency Room. I was thankful that the lobby was for the most part vacant because I didn't think I looked all that attractive or presentable. I had my half wet hair in a ponytail, and I had on my nightgown with a pair of sweatpants underneath.

It wasn't long before I was alone with my dad in a room having to wait. With nothing to do I flipped through the channels and watched the last part of Indiana Jones and the Crystal Skull, and then I started watching episodes of this old TV show called the Bob Newhart show.

Before long they had me do a blood test, which wasn't all that fun. Let me explain to you this, I hate shots. When the nurse told me I had to do a blood test, I went wide-eyed and freaked out, but I survived. Unfortunately, that was just the beginning.

The doctor, a woman with short dark hair, told me that they found bacteria in the test, and that they wanted to do a CAT scan. Before I did so, I had to drink this disgusting chalky water. Let me tell you, it was absolutely revolting. When I was almost finished, I started to gag. Then they took me to take the CAT scan. Wait, but get this, they took me in a wheelchair. Yep, it was awesome.

It seemed like a lifetime before the doctor came back and told us the results of the CAT scan around 3:30am. After she finished, I started tearing up and my dad just nodded.

I had appendicitis.

The doctor reassured me that it wasn't a major operation, but I needed to be transported to Cox South. My dad called my mom and told her.

"Guess what? Your daughter has appendicitis," he said with a hint of a smile.

My dad had appendicitis when he was in his twenties, actually, his ruptured. Thankfully mine hasn't ruptured, yet.

The nurse and the doctor wished me well and then I was put in the ambulance. The ambulance ride was probably the most fun I've had so far. It was so cool!

Once out of the ambulance they put me in the emergency area. With me there was my mom, who just arrived, my dad, and my grandpa. While waiting for my room, this was where I was most painful. In that moment, I felt so helpless.

It was around 7:30am when I finally got a room. I waited there for quite a while. Before my surgery, my grandma and aunt stopped by my room. My grandma gave me a necklace and a charm of a turtle that read "Beautiful inside and out." My aunt gave me a magazine. Also while waiting, I watched The Blind Side, which I chose from the many movies they had.

Before the surgery I didn't hurt one bit. That was because I had a bunch of painkillers and such keeping my pain nonexistent.

When a nurse came in and told me that it was time for my appendectomy, I started bawling. I went into the surgery around 10:30 and got out an hour later. I didn't wake up until 4:30. When I woke up I couldn't see a thing. That was, of course, because I didn't have my glasses on.

When I finally got home around 7:30 in the evening, I sat down on the recliner and looked at my email. There was a message from my friend, Ellen. It read:

"Where were you? You weren't at school today."

I replied back saying:

"I'll send an email explaining everything."

I then sent an email that explained everything.

I had a week to recover. To my inconvenience, this week had to be the week of MAP testing. On my first day of recovering, I went out to get the mail, and my mom commented that I looked like an old lady walking to the mailbox. It was probably true. I was bent over with a pillow, the pillow that they gave me at the hospital, clutched to my stomach.

One day I decided that I was sick of sleeping in the recliner. So, I decided to test it out and see if I could sit up on my own. I laid flat down on my bed, and then I tried my hardest to sit up, but I couldn't. I tried again, but I couldn't budge. Feeling so defeated, I started crying. I couldn't believe it! How could I do anything else if I can't even sit up on my own?

Soon I was able to sit up on my own, and I continued to recover. They took pictures during my surgery. It took me a while to be able to look at them. I just couldn't bear myself to look at them. When I did, I was completely grossed out. I mean, when you look at pictures of the inside of some body it might be weird, but when it's your own, well, that's something totally different.

I thought back to the charm that my grandma gave me, the one that said "Beautiful inside and out." I laughed at the irony. You can easily get what that's supposed to mean, but when you take it literally it's, well, not so true. Looking again at these pictures makes me think that the "out" part of it not completely true.

It's Friday, four days since my surgery, but also the day of the spring dance. The school said I could go if I get a note from the doctor saying I'm not well enough to go to school, but well enough to go to the dance. I, of course, went. I dressed in a layered floral tank and Aeropostale sweats. It was supposed to be a "casual" dance, but once I got there I realized it wasn't so "casual", but, you see, I had an excuse. At the time I couldn't wear jeans or capris with all the bandages, forget a dress.

When I got inside the chaotic room Ellen saw me and hugged me. A lot of my other friends hugged me, too. I didn't come to the dance for the music or the food, or to dance, which I couldn't do because of the surgery. I didn't mind, though, I hardly ever dance at the dances. Mostly, I just watch. The reason I came here was to see my friends who I haven't seen in a week.

Easter is a time to celebrate Jesus' resurrection and to be thankful that he died on the cross for your sins. This Easter was the most memorable Easter I've ever had. It made me thankful for my friends, family, God, and everyone who helped me through what was probably the scariest experience of my life.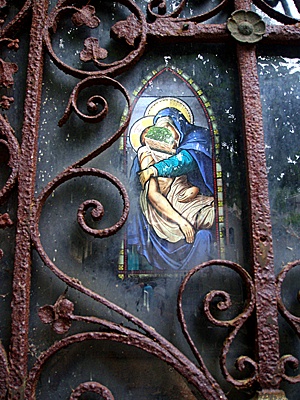 © Rebecca Y., Los Angeles, CA