Release
August 21, 2012
I didn't know what I was doing.

"Come on, go up with me." Evan had apparently decided he was joining his friend on the stage. Whatever. That was okay with me. They could go up and make idiots of themselves if they wanted. I was just going to stay right here in my seat. "No.", I replied, only a little incredulous that he'd asked. I didn't get what he thought he was doing—I didn't think even he did.
"Come on, we're gonna talk about our church."
"What?" Way to randomly throw that out there, Evan. Now that he brought that into it, I couldn't really say no. I felt the familiar slurp of nervousness spike in my stomach.
"Come on." Evidently he knew what I was doing better than I did.
"Okay, okay." I got up and began to follow him.
Still. Neither of us knew what we were doing.
It was either March or May—I still don't exactly remember—of 2011, and my friend and I were standing up to speak during the 'youth time' part of Mars Hill. Although I wasn't incredibly nervous (Mars Hill is just a youth gathering, a bit like a mega youth group, and I felt pretty comfortable there), I had no real idea what I was going to say.
Walking up the steps to the stage, I continued past my friend Josh, who was playing guitar in the background, and on past Evan, who had stopped in front of the microphone. I stood a bit to the right and stared into the crowd of people: probably seventy of them, their colorful jackets popping towards my eyes so that I couldn't distinguish the people I knew from those I didn't.
I looked at Evan. He didn't seem to know what he was doing. (He's not really the inspirational speaker type.) Dutifully, I thought: I should take charge.
Instead, I watched him expectantly, mentally nudging him to begin. Come on, Evan. This was your idea.
Eventually, he started, and as he spoke, Josh strummed nonchalantly on the guitar; accompanying our unpracticed bumbling with sleek shudders of stringed music. I don't remember what exactly Evan said. Something about me, Monika, and him going to the church (an amusement park nearby)to pray for people. Then he told the story of praying for one lady whose leg was in a cast, and handed the microphone to me.
It would be really convenient for this paper if I'd had a deer-in-headlights moment, flashing back to the day we prayed and going through all the possible encounters I could talk about. But I didn't. I knew exactly what instance I wanted to talk about.
Ever since that day in September, when Evan, Monika, Jon and I drove to church with the full intent of praying for random strangers, I've had a certain encounter on my heart. Fusing warm and close to my memory, the trip holds a certain moment that is more revelatory than any other I've had so far. While watching the sun creep out of the sky, fluttering our day into a simple ending, the four of us sat, kneeled, lay, and crouched by the curb of a sidewalk.
After a good few minutes of drifting in prayer, I looked up to see the sign for "SpongeBob Square Pants in 3D". Since it at least remotely resembled direction from God, I asked—somewhat skeptically—if anyone else felt like we should go there. Surprisingly, Evan did; so we picked ourselves up and journeyed towards the covered waiting area, accepting the plastic glasses offered by the worker there, and hesitantly grouping ourselves in the line.
The only problem was, there was no one else there.
Do you know how hard it is to pray for someone who isn't there?
I looked at Monika. She shrugged. The church employee stood by the box of 3D glasses, and Monika, glancing over there, whispered, "Do you think we're supposed to pray for her?"
Yes.
Duh.
Obviously.
But of course I didn't know that then. I simply said, "I dunno...we might as well.", and pushed Evan in front of me to begin the clumsy conversation with,
"Could we pray for you?"
It's funny to think that one of the most awkward and misunderstood exchanges I've ever had is so high on my list of favorites.
Confused, the girl (somewhere in her twenties, obviously one of the foreign student workers, with straight black cropped hair), asked,
"What?"
We'd prayed for at least seven people earlier, which meant we were used to that response. I explained (a bit slower this time) that, "We were wondering if we could pray for you."
"Pray for me?"
Sometimes they don't get it the first time.
I tried to clarify a bit better, spurred into clear communication by her incredulous, almost unbelieving responses.
Finally, she seemed to understand: "Oh, you guys are Christians"
Suddenly, she's laughing at us.
Somehow, though, I wasn't annoyed. I wasn't offended. I wasn't feeling rejected or apologetic either. I honestly felt joyful; this girl was laughing at my faith, and I felt absolutely joyful.
Smiling, I answered, "Yeah, we're Christians."
"Well, I'm not."
We explained that it doesn't really matter, that, "God loves you anyway and still wants us to pray for you."
I love her next question.
"Shouldn't you be in church or something?"
(Because, you know, it's a Saturday evening, but apparently all Christians are supposed to be like little gerbils who live in their churches throughout the week and are never allowed to come out.)
"Well, not everyone who needs prayer comes to church, so we're coming to them."
I am so thankful for the Holy Spirit right there. I am not that eloquent.
So again we asked if we could pray for her—and to my surprise—she said yes. I held my hands open, closed my eyes, and began to ask the Father to let her know His thoughts about her: how constant they are, and that there are too many of them to count. I found myself inspired by a street evangelist I'd seen, and commanded a wind to go around her head, and a tingle to be felt on her skin; I wanted her to truly know and feel the presence of God. Opening my eyes, I saw her nod, eyes gaping and devoid of skepticism for the first time since we'd met.
She legitimately felt it. I asked afterwards how the others thought Li (that was the girls' name)reacted. Apparently she had been tearing up; I still remember the glances she offered as we went back into the line and entered the theater: not glances of suspicion or disgust, but of unquenched curiosity.
After describing a rather condensed version of that encounter to the seventy-some people at Mars Hill, I found myself closing with what the Lord taught me through it—that, "When we step out in faith, God steps out in power."
See, I didn't know that as we walked through the entrance of our church that day, that I'd be a part of releasing glory through healing. I didn't know as I talked to Li that I would be used to help her encounter the living God. I didn't know that, as I descended the stage at Mars Hill, I'd meet three girls who would change my life: one who invited me to what is now my home youth group, one who invited me to the Fredericksburg Prayer Furnace (where I'm about to do an internship), and one who abruptly hugged me, saying nothing more than, "Thank you. That inspired me."
If I have nothing left to my name—no money, descendants, songs, stories, jobs, or legacies,—except a row of people I helped to encounter Jesus, then I'll be more than pleased. Because that's what I discovered that day: I was made to be a vessel of glory. And when I'm operating as one, when I'm truly walking with Jesus' Spirit, in agreement with Him, loving His people, I am satisfied in a way I can't find anywhere else.
Therefore, this is what I will ravage my life doing: releasing the word of God.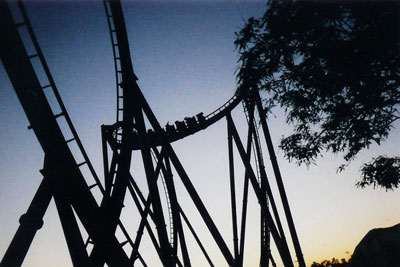 © Aaron S., Shelby, NC